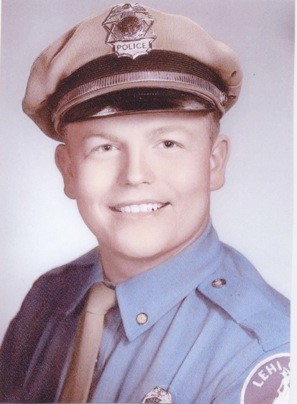 Karl Edwin Zimmerman, 80, of Lehi, Utah died Oct. 28, 2017 from Alzheimer's Disease. He was born to George Charles Zimmerman and Mildred Norman Zimmerman Dec. 9, 1936 in the Lehi Hospital.
Karl grew up on the family farm on Saratoga Road. He graduated from the Lehi High School with the class of 1955. He also graduated from the Central Utah Vocational School, now UVU in Diesel Mechanics in 1957.
He married his high school sweetheart, Carol Nielsen, June 14, 1957 in the Salt Lake Temple. Karl became a Police Officer for Lehi City in 1961. He served the citizens of Lehi for 41 years, the last nine years as Chief of Police. He also served as a volunteer Fireman for 34 years.
He worked at Price Brothers IGA as a youth and began learning to love and serve people. He worked on Lehi's dry farms for many local farmers including Grant Smith, Rosevelt Smith, and LaVar Bateman. Karl also spent many hours working for mink farmers, Verda Searle, Rex Larsen, and Berl Peterson. He always had a second job to provide for his family. He was a mechanic and spent much of his time off in his garage fixing cars for friends and family.
Karl was diligent in his service in the LDS church in many different callings, including Mount Timpanogos Temple ordinance worker for seven years. His last calling was as Assistant Coordinator over the Sacrament services at the Greenwood Care Center, a position he really enjoyed. He loved touring and camping and ATV adventures with his family and friends.
He was preceded in death by his parents, his brother John Richard Zimmerman (Jack), and 3 grandchildren. Karl is survived by his wife of 61 years, Carol, and his seven children and spouses, Paul and Phyllis Zimmerman, Teresa and Blake Robinson, Layne and Lisa Zimmerman, Alan and Angie Zimmerman, Brett and Amber Zimmerman, Jeana and Derek Washburn, an Julie and Troy McGill, 30 grandchildren and 30 great grandchildren, a brother and sister-in-law, Lynn and Karla Nielsen and a sister-in-law, Marilyn Nielsen.
A special thank you for the love and exceptional care to both Karl and Carol from the 1 Care Hospice workers, Paula, Lena, Rosalind, and Burt.
Funeral services will be held Friday November 3, 2017 at 11:00 a.m. at the Lehi Stake Center, 200 North Center, Lehi, Utah. Viewing will be held prior to the service from 10 to 10:45 a.m. and Thursday evening from 6 to 8 p.m. at the church. Interment will be in the Lehi City Cemetery following the funeral service. Online guest book at wingmortuary.com.