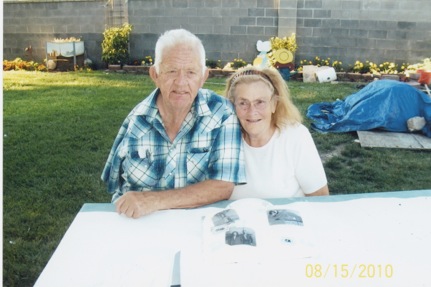 Leon Stanley "Whitie" Webb was born on November 19, 1932 in Redmond, Utah. His parents were Edith Corral Sorenson and Stanley William Webb. He grew up on a farm in Lehi and was the first of six children.
He met and married his beautiful wife Mildred Pate on August 14, 1952 and they were sealed for all time and eternity in the LDS Salt Lake Temple on January 24, 1964. Together they had nine children, 37 grandchildren and 50 great-grandchildren.
Leon worked at the Tooele Army Depot for 35 years, all while raising their nine children. He loved hunting, fishing, camping, and square dancing, all with his family. He served many years as a Boy Scout Master, which he loved.
Leon and Mildred loved serving the people in Orlando Florida on a full time LDS mission.
Leon is survived by one brother, Arlo Webb and one sister, Jana Newbold, children; Diana (Ken) Lewis, Danney (Pat) Webb, Stanley (Jena) Webb, Peter (Phyllis) Webb, Gwendolyn Webb, Ina (Roger) Ramirez, Joseph (Piper) Webb, Jennie (Tony) Holmstead, Kyle Webb, grandchildren and great grandchildren. He was preceded in death by his wife Mildred, brothers Allen Webb, and Glen Webb, sister Nyla Oliphant, and grandson Kevin Webb.
Thank you to the Lehi 10th Ward and Community Nursing Services of Orem for their kind service.
Funeral services will be held Saturday, October 28, 2017 at 11:00 a.m. in the Lehi 10th Ward Chapel, 1100 West 300 North. Family and friends may call Friday evening from 6-8pm at Wing Mortuary, 118 East Main, Lehi, Utah and one hour prior to the service at the church. Interment, Lehi City Cemetery. Online guest book at wingmortuary.com.