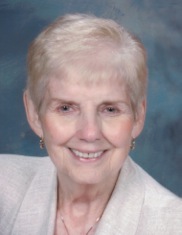 Edna Leona Smith Loveridge stepped peacefully through the veil to return to the arms of her husband Leo on Saturday, Oct. 21, 2017, in Lehi, Utah. She was 91 years old.
The daughter of Eva Morley Hutchings and Chester Marion Smith, Edna was born January 6, 1926 in Lehi, Utah, where she lived most of her life. She graduated from Lehi High School as the class valedictorian, and attended BYU.
Edna and Leo H. Loveridge were married November 7, 1945, in the Salt Lake Temple. Together they welcomed and loved four children into their home, extending that love and acceptance to spouses, grandchildren, and great-grandchildren as each entered their lives.
For 29 years, Edna was lead secretary for Lehi High School, and a correspondent for several local newspapers. She spent her life offering service both in the church and the community. As an active member of the LDS Church, she filled many church callings, including serving as Stake and Ward Relief Society president, and as an ordinance worker at the Mount Timpanogos Temple. She helped organize the Lehi Serimpian Club, and served on Alpine School District and Alpine Credit Union boards as well as on the Lehi Library Board. She actively participated in the Evansville DUP camp.
Edna loved music and enjoyed playing the violin in community orchestras and smaller quartets. She also loved to travel with Leo throughout the world. Most of all she loved people. There wasn't a person who knew her who didn't love her because she so freely loved them.
She was preceded in death by her husband and parents, two brothers, and a great-grandson. She is survived by her children: Brent (Julie), Ann (Tony) Coppola, Howard, and Mark (Kathy); 17 grandchildren, and 38 great-grandchildren.
Funeral services will be 11 a.m., Monday, Oct. 30 at the Lehi Twelfth Ward Chapel, 300 W. State St., Lehi. Viewings will be held Sunday evening, Oct. 29, 6 – 8 p.m. at Wing Mortuary, 118 East Main, Lehi, and Monday 10-10:45 a.m. the church. Interment in Lehi City Cemetery. Full obituary is online at wingmortuary.com.