Vintage Vignette: A not so "fast" Fast Sunday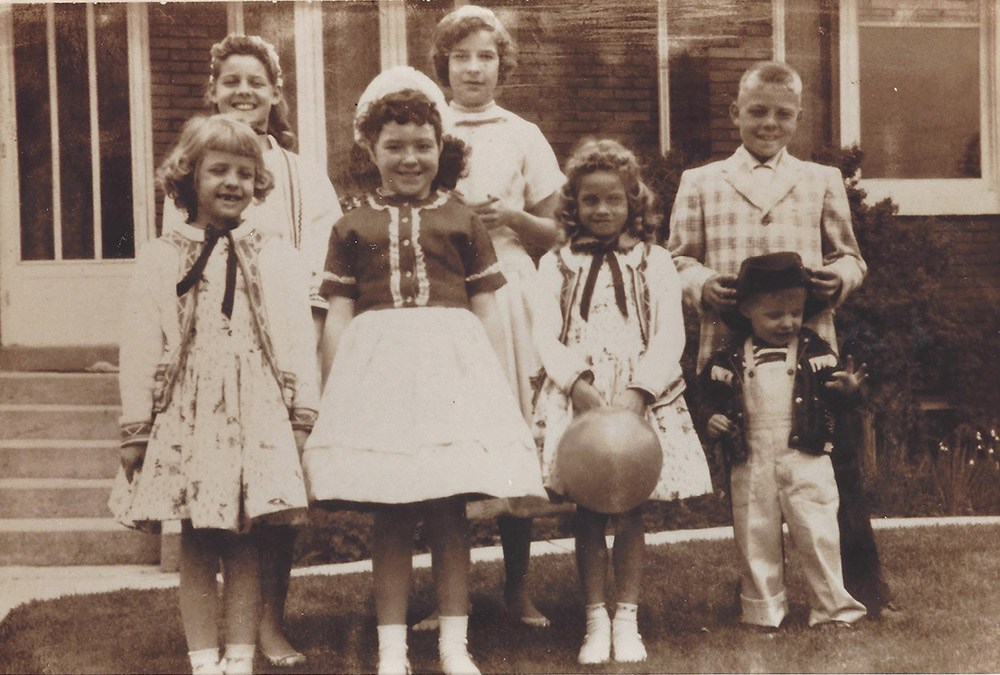 As a small boy I quickly learned how good home-made meals could taste after fasting and being deprived of breakfast. It took me quite a while to understand what the spiritual blessings of the "Fast" offered. I didn't know much about personal sacrifice and how the needs of deserving people could be met by a monthly donation from my paper route.
Growing up in the old Lehi 2nd Ward was one of the great blessings of my life. At church, I learned to love the Lord, my neighbors, my grandparents, my teachers, my friends; and I learned patience. In Mormondom, church members have an opportunity once each month to donate fast offerings for the needy. "Fast offerings" represent the equivalent cost of two meals, which are skipped, thus the name "Fast Sunday."
On Fast Sunday, there is also a meeting where the "faithful" can publicly proclaim their beliefs from the pulpit. My youthful recollections of Fast Sundays take me immediately to ole brother Tom Kirkham. When the "testimonies" or open microphone part of the meeting started, Tom would quickly stand and say, "My testimony of the Savior can be found in the hymn book. Sister Shaw (Naomi) would you please take the piano and sister Smith (Alta) would you lead us in all three verses of 'I Stand All Amazed.' I want everyone to stand up and sing loudly." The congregation would then robustly sing the verses. At the conclusion brother Kirkham would say, "I bear witness of those words and that music in the name of Jesus Christ… amen!"
Somehow, that song as a testimonial of his feelings always had great impact upon my early Christian soul. It touched me more deeply than the meeting's opening song 'Should You Feel Inclined to Censure' which I didn't understand as a young lad. The second testimonial was often someone who had taken a bus trip to see a sister in Little Rock, Arkansas. That rambling narrative would take us over the Rockies, across the plains and through cafes and their menu items, on to museums, and even to the Little Rock County Fair where we traveled with that sweet but wordy soul for the next thirty minutes, ending with the blue-ribbon words, "I saw a lot of churches but know ours is the only true one…. in the name of the Lord amen." She would then come up to friends after the meeting and say, "Went on too long didn't I?" "Oh no," they would say, but once I actually heard sister Christensen reply, "yes you did." She calmly walked away leaving the testimony bearer with a dropped jaw and glaring eyes.
Next would come the proclamation of brother so and so who had experienced a "near death" event at the dentist and whose quick prayer saved him from a dental demise. I recall one older brother whose daughter had nearly succumbed to an infected hair but was saved at the last moment with a plea to Heaven.
The fast part of "Fast Meeting" seemed just the opposite. Once I heard a man in the ward who sat in the pew just in front of me say quietly to his wife, "If I had a disease and was gonna die, I would come to Fast meeting and listen to sister ____ bear her testimony. It would seem like my life would be going on for years." He glared back at me when I started laughing. Then he winked and put his finger to his lips. He was my best friend's dad and I liked him even more when he took Johnny and me fishing up to Deer Creek one fast Sunday. He apologized for breaking the Sabbath and said his wife was angry about his decision. I figured the blessings of God could apply to fishing too, but they didn't. We got skunked that day at Deer Creek and became more devout Deacons the next week…even if I did feel like Strawberry Reservoir would have been a more blessed place to break the Sabbath.
We didn't have air conditioning in the church so Bishop Ferrin Gurney would turn on the fans and open all the windows hoping for an outside breeze. Dad attended fast meeting just across the street under the hood of his truck. If his crescent wrench clanged to the ground while changing the oil, I would sometimes hear his curses faintly echo through the open chapel windows. Chub Larsen smiled down at my red face. Chub later said, "Your dad does more good for the folks in this ward than many who sit here every week." I loved him for that.
One summer Fast Sunday, Mabel Cox baked fresh bread during the testimony meeting and almost none of the starving congregation bore their testimony.  Instead, we all just drooled and smelled those delicious loaves cooling on her window-sill next door. The religious words "slather" and "raspberry jam" wafted through our heads. Nope, Fast Sundays never went "too fast" for me.