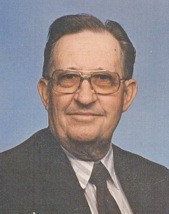 Husband, father, grandfather, great-grandfather, brother, uncle, and friend, passed peacefully in his sleep, the morning of December 25, 2017. Freeman was born in Lehi, Utah, to Azalia Brooks and Joseph Earnest Barnes. He was the second youngest of nine children and is survived by his younger sister, June Winters.
Freeman graduated from Lehi High School and served an LDS mission to the Samoan Islands. He was sealed in the Salt Lake Temple to Anna Mae Robinson Barnes; his wife of 65 years. Freeman dutifully served his country during the Korean Conflict, as a member of the Army Signal Corps. He was a skilled carpenter, who built two of his homes. Freeman was an avid fisherman, who loved gardening, woodworking, spending time with family, and serving in various positions in the LDS church.
Freeman worked as a guard at the Utah State Prison for over two decades. After retirement, he drove a school bus for the Alpine School District as a second career. Freeman was a survivor of Lymphoma (cancer) and served an LDS Stake mission with his wife in Lehi. Throughout his life, he enjoyed traveling to various destinations with family and friends, including Canada, Mexico, Europe and two return visits to the Samoan Islands.
He is survived in death by his wife Anna Mae; his three daughters Camile Barnes, LeAnn (James) Enderle, and Lora (Rodney) Wirthlin; eight grandchildren; and twelve great-grandchildren. He was preceded in death by one grandson.
The family would like to express their deepest gratitude to the following: Shauna Whatcott, Cardiovascular PA with Revere Health in American Fork; the staff of Abbington Manor Memory Care in Lehi; the staff at the Huntsman Cancer Institute in American Fork, and the Relief Society of the Lehi 18th Ward.
Funeral services were held on Tuesday, January 2, 2018. Online guest book at wing mortuary.com.