Former Broadbent's property top choice for safety complex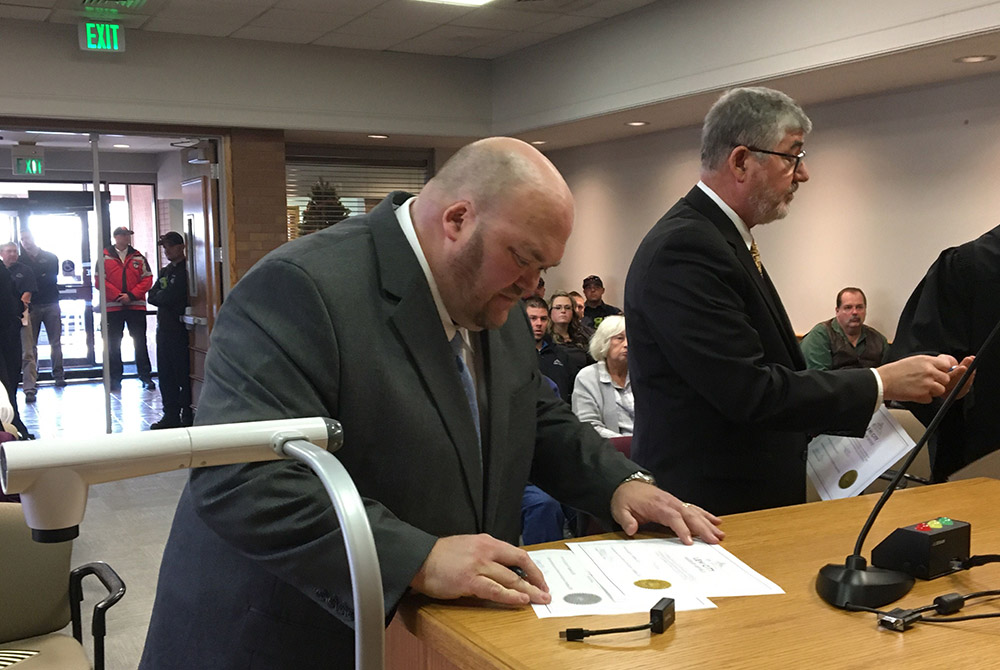 Newly-elected mayor Mark Johnson and two re-elected city council members, Chris Condie and Paul Hancock were sworn in January 2, 2018. Lehi City Council chambers were full as family and friends witnessed the swearing-in ceremony. Lehi Judge, Morgan Brown read the oath of office.
After the brief ceremony, Johnson asked councilmembers, Condie and Hancock to respond. Hancock said, "I am thrilled to serve Lehi. It has been great for me to get to know the citizens of Lehi." Condie thanked the residents for allowing him to serve another term. "It is a great privilege to know the staff and how well they help the city function." He also thanked his wife and children for their support.
Johnson proceeded with the two-item agenda. Johnson invited those who didn't want to stay to leave.  Johnson said, "As Mayor Greenwood used to say, 'you don't have to stay until the end.' Johnson invited Chief of Police Darren Paul to introduce Chad Jones of "Project Control" to discuss the selection of a site for the new Public Safety Complex.
Jones gave a presentation describing the criteria for choosing the location of the new complex. The five proposed sites were: 1. The present site on State Street, 2. Former Broadbent's land across from Lehi City administrative offices. 3. The parking lot south of the Administrative complex. 4. Land surrounding the Hubbard Machine shop. 5. Land adjacent to the Lehi Power Plant complex.
Criteria for choosing the best site included: location, accessibility, context of surrounding area, proximity to city, centrality and usability. The site selection committee included, Mayor Bert Wilson, Kim Struthers, head of planning staff, LPD Chief Darren Paul, City Administrator, Jason Walker, Judge Morgan Brown, and others. A scoring system was established by the committee. According to the criteria and scoring system, the Broadbent property scored the best.
Councilmember Hancock asked, "Should we expand our search?" The question was in response to research indicating cities across the nation of similar size had larger acreage for their police and courts complexes. Council member Revill said, "None of the sites are adequate in comparison to other cities." Council member Condie said, "what about Mellor Rhodes?"
"We need that for recreation," replied Revill. The discussion will be continued at later city council meetings.
The second item on the agenda was brought to the Council by City Administrator Jason Walker. It concerned compensation of elected officials. In Lehi City code written in 2009, "Compensation for the mayor and members of the city council should reflect the same increase as city employees." According to Walker, "This increase on a yearly basis has never been given." He pointed out that city employees average a 2.75% increase each year with a ceiling of 3%. Walker asked for clarification on the code. It was determined that over the last several years ten elected officials have not been paid the annual increases. Apparently, the intent of the code was that elected officials would receive either cost of living increases or merit increases commensurate with annual increases of city employees. These increases were never given. The total amount not paid was approximately $50,000. Walker asked the City Council to consider retroactive pay for elected officials who have served since 2009.
Mayor Johnson and Councilmember Revill were both elected city officials at the time and said the intent of the code was to adjust compensation on a yearly basis. Councilmember Albrecht stated, "I will be the one least affected and I am in favor of re-writing the code."
This issue will be resolved by staff and city council members working together in future meetings.
Councilmember Albrecht asked about having traffic studies being done by independent traffic engineers rather than developer funded studies. Discussion included possibility of hiring a city staff person to be responsible for traffic studies. One suggestion was to hire an outside consultant to study potential traffic problems and not hire a permanent city employee.
Revill asked Johnson what the City Council assignments would be for the year. "I will let you know in February," responded the new mayor.