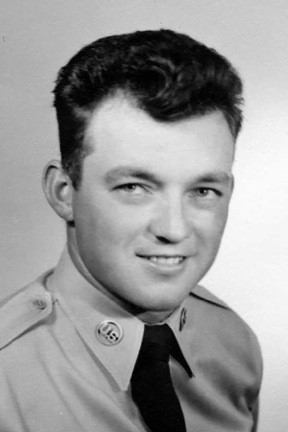 Richard Melvin Ferrell
Our wonderful husband, father, grandfather, brother, uncle, and friend, Richard Melvin Ferrell, 84, of Lehi was reunited with loved ones in heaven on Friday, February 9, 2018. He was surrounded by his loving family when he peacefully passed on. Richard was born July 27, 1933 in Leavenworth, Washington to James Anthon Ferrell and Almira Oliver Ferrell.
Richard is survived by his wife, Nancy Lee Thomas Ferrell, six sons and one daughter: Tim (Sandy), Garth (Jan), Brad (Angie), Andrena (Don) Marchant, Mike (Sandy), Sean (Tara), Jay (Tiffany), 26 grandchildren, 60 great grandchildren, one brother and five sisters: Jay, Rose, Ruth, Sharon, Cheryl, and JoAnn. He was preceded in death by his parents and one grandson, Matthew Ferrell.
Richard graduated from Lehi High School in 1951. He joined the Air Force during the Korean war where he served in intelligence and as a radio operator. He was stationed in Texas, Alaska, and Washington D.C. Afterwards, he met his eternal "sweetheart" Nancy, in Seattle, Washington. They were married and sealed in the Logan, Utah Temple on September 23, 1958, and spent 60 wonderful and amazing years together.
Richard attended Brigham Young University and studied agriculture, where he was a member of the Honor Society. He spent his childhood and early adulthood working on family farms in Lehi, Utah; Ellensburg, Washington; and on a ranch near Harden, Montana. He could fix anything and learned it all having grown up on farms and ranches. Due to serious hay fever, he had to cut short his beloved ranching and farming, and soon found a new passion–flying. He began his flying career as a commercial pilot for small commuter airlines in the Puget Sound area. His flying experiences included making drops for the U.S. Park Service on the Olympic Peninsula, making runs landing on Blue Glacier on Mt. Olympus with a ski plane, and photographing glaciers for the United States Geological Survey in Alaska.
For two years, five nights a week, Richard flew air mail for the U.S. Postal Service as a contract pilot between Plattsburg, New York, and LaGuardia airport, often with one or two of his children either riding as a "co-pilot" or sleeping on the airmail bags. He loved being a pilot and wrote a book about his flying adventures and close calls. After his flying career, he returned to his agricultural roots for a short time and managed a circular sprinkler shop and sales location for Pierce Irrigation in Othello, Washington. At the end of his career, Richard retired from managing Linatex Corporation in Lehi, Utah.
Richard was an active member of The Church of Jesus Christ of Latter-day Saints throughout his life, and faithfully served in many callings. Some of his most important service was as a dedicated home teacher. He served in a bishopric and as a counselor in the district presidency in Plattsburgh, New York. He and Nancy served as temple workers in the Mount Timpanogos and Provo Temples. They also served a mission together in Peoria, Illinois where they were able to serve part of the time in the Nauvoo Temple, a highlight of their life. He was a ward family history specialist and indexed over 50,000 names by himself. He was able to complete much genealogy for the family, especially for his wife Nancy's Norwegian lines.
In their retirement years, Richard and Nancy enjoyed being a Camp Hosts in American Fork Canyon. He loved his life-time of camping and fishing with his family.
Richard's nephew described him as "always filled with love in his heart, a smile on his face, and a joke in his pocket." His family loves him dearly and he will be deeply missed. The family would like to thank all who have shared in their sorrow. Your love and kindness has been deeply appreciated.
Funeral services will be held Saturday, February 17, 2018 at 11 a.m. at the Lake Mountain 2nd Ward Chapel, 3548 McGregor Lane, Saratoga Springs, Utah. Family and friends of Richard are invited to honor Richard's life by visiting with the family Friday evening, February 16 from 6-8 p.m.at Wing Mortuary in Lehi, 118 E Main St., and on Saturday morning at the Lake Mountain Chapel, 9:30-10:30 a.m. Interment will be at the Lehi City Cemetery. Online guest book at wingmortuary.com.