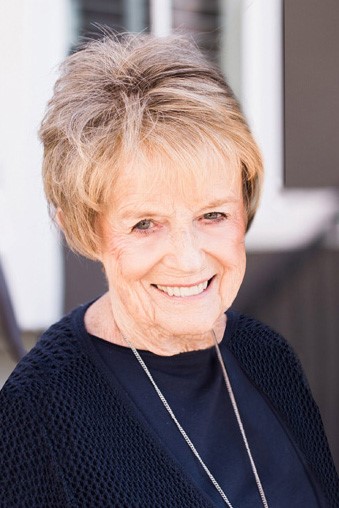 Donna Shelton Stewart
Donna Shelton Stewart, 79, wife, sister, mother, and grandmother passed away Sunday, February 11, 2018 surrounded by her loving family. She was born on May 16, 1938 to Joseph Harry and Caroline Mabel Fullmer Shelton in Salt Lake City, Utah.
The third of six children, Donna graduated from South High School in 1956. While there she became friends with a loyal group of girls that meet once a month to this day.
In 1956, Donna moved to BYU and met Lawrence (Dewey) Stewart. They were married in 1961 and sealed in the Salt Lake Temple in 1972. They moved to Lehi, Utah and began raising their five children. Donna was an immaculate cleaner and seamstress and will always be remembered for the countless hours she spent sewing dresses for Easter and dances. She loved to quilt and will ever be remembered for the numerous blankets that she would sew for her children, grandchildren, great grandchildren, and friends.
While raising her children she served in her church in several capacities. She worked for several companies as a bookkeeper throughout her life. In 1986 she moved to St. George and resided there for 30 years. While there she made new friends who remember her for the genuine love and concern she showed towards others. She faithfully served the widows, lonely, and downtrodden in her practice of true religion. When she wasn't raising her chickens, she would spend time attending various activities for her grandchildren. Boating trips, camping, and neighborhood night games are what Donna and Dewey provided for their children. They never went anywhere without taking their children with them for they gave their family everything–they gave them their time.
Donna is preceded in death by her parents, husband, brother, and grandson. She is survived by her brother, David Shelton, sisters, Carolyn Beckstead, Ruth Ann Saxon, and Mary Jane Lindsay, her five children Suzanne (Keith) Pulham, Michael (Karin) Stewart, Rebecca (Anthony) Ivins, Jannette (Chad) Bean, and Elizabeth (Justin) Thompson, 20 grandchildren and 24 great grandchildren.
The family would like to thank Dr. Casey Owens, Annika, and Callie with Brighton Home Health and Hospice for their tender loving care of their mother.
Funeral services will be held Friday, February 16, 2018 at 11 a.m.in the Highland 4th Ward Chapel, 5848 West 11000 North. Family and friends may call Thursday evening from 6-8 p.m.at Wing Mortuary, 118 East Main, Lehi, Utah and from 9:30-10:45 a.m. prior to the service at the church. Interment, Lehi City Cemetery. Online guest book at wingmortuary.com.