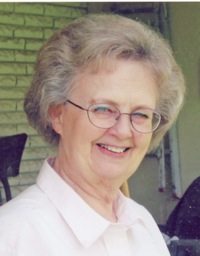 Carol Carter Harris
Carol Carter Harris was reunited with her husband of 68 years on February 10, 2018. She was born January 4, 1930, in Ogden, Utah, to Verenus Joseph Carter and Jessie Ellen Welsh Carter. As the eldest of nine children, Carol proved to be a responsible and capable "alpha" sister, helping to calm the hectic family life growing up on airport her parents' owned. She attended Granite High School, and then married Ronald Thomas Harris in Salt Lake City. They were blessed with a son, David Lee.
Carol, Ron, and David spent 20 years living on various military bases while Ron served as an officer in the U.S. Air Force. They enjoyed traveling but were glad to retire to a quieter life in Lehi. Carol served faithfully in various LDS Church positions, including Relief Society president, Gospel Doctrine teacher, and temple worker. She exemplified compassionate service as she provided decades of care giving to several loved ones. For 18 years she regularly fed and read to her brother after he became partially incapacitated. She gave end-of-life care to her mother, son, mother-in-law, and brother-in-law. Recently she provided extended care to her beloved husband as well.
Carol is survived by her daughter-in-law, Evelyn Harris; grandchildren Kirsty H. Ericksen (Shawn), Lindsay H. Ross (T.J.), and Trenton D. Harris (Jennifer). Great-grandchildren include; Patrick, Connor, Gideon, Bridger (deceased), Kirtlynn, Adalynn, Lily, Lincoln, and Scarlett. Sisters: Ellen C. Jackson, Janice C. Lyman (Gary), Mary C. Walker (Steve), Lauraine C. Snow (David). Brothers: Gary V. Carter, Ray L. Carter. Preceded in death by her parents, husband, Ron, son David, brother, Glen, and sister Hazel.
Funeral services will be held on Saturday, February 17, 2018, at 11 a.m.at the Lehi 4th Ward, 900 North 1200 East, Lehi, Utah. A viewing will be held Friday, February 16, from 6-8 p.m. and again on Saturday, February 17, from 9:30-10:45 a.m. prior to the funeral. Interment will be at Moroni City Cemetery under the direction of Wing Mortuary, Lehi.