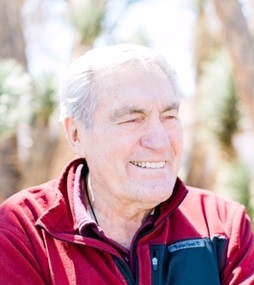 Jim Crittenden
1935-2018
Jimmie Frazier Crittenden died at the age of 83 on May 17, 2018 in Lehi Utah. He was the husband of Georgia Kae Powelson Crittenden. They shared 44 years of marriage together.
Born in Oakley Utah, he was the son of Clifton and Ruth Crittenden. He attended Brigham Young University where he played football, basketball and ran track. While at BYU Jim received his Bachelor of Science Degree and a Master's Degree in Education Administration. He was employed by Alpine School District as a teacher, coach and administrator.
Jim taught and coached football at Lehi High School, where he mentored and influenced many young people. Jim was a PCAA, WAC, and Big Sky College Football Official, and was awarded numerous selections to officiate in college football bowl games during his career. He was an avid horseman, hunter and fisherman and was happiest when he was in the outdoors. He will always be remembered for his sense of humor and his positive outlook on life.
He is gracefully survived by his legacy of five daughters, Kymm (Nile) Hansen, Kelle (Steve) Riley, Cyndee Crittenden Carter, Kori (Brian) Day, and Jennifer (Jeff) Frier. He has 19 grandchildren and 21 great grandchildren. He is also survived by three siblings Jerald (Loralie) Crittenden, Thomas (Tana) Crittenden and Norine Van Tassell.
Funeral services will be held at 12 noon on Friday, May 25, 2018 at the Oakley/Peoa LDS Ward Chapel on SR 32. Friends and family may call from 9:30 to 11:30 a.m. prior to the service. Interment will follow at the Oakley City Cemetery.
In lieu of flowers please make donations at Zions Bank to The Oakley Jr. Rodeo under Jim Crittenden's name.
On-line condolences can be made at www.crandallfhevanston.com