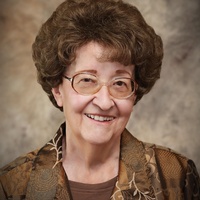 Georgia Peterson
1934-2018
Ida Georgia Nelson Peterson passed away on June 19, 2018. She was born June 30, 1934 to Justin Nelson and Clara Stark in Moroni, Utah. She graduated from Moroni High School and then continued her education in Seattle to become a dental assistant. She went on to manage a variety of offices throughout her career.
She met George Arthur Peterson and they married May 20, 1955 in the Manti Temple.
Georgia took great pride in the house she built with her husband. While he was serving in the military she drew up the plans, and when he got home they got to work. That hard-working and resourceful spirit never left her as she continued to grow her family and mold that house into a home. Some of her joys included sewing, at which she was greatly skilled, and her grandchildren, for whom she was always fussing.
Georgia is survived by her husband Art, children Chet, Dale, and Linda Sue; seven grandchildren; and three great grandchildren, with two more on the way. She is also survived by her sisters Mary Ellen Brady and Carma Horne, as well as her sister-in-law Lorene Nelson. She was preceded in death by her parents and her brother, Don Nelson.
A viewing will be held on Sunday June 24 from 6:00-8:00 p.m. at Wing Mortuary, 118 E Main in Lehi. A funeral will be held on Monday, June 25 at 11:00 a.m. at the LDS Stake Center located at 900 N 1200 E, also in Lehi, where friends may call upon the family one hour prior. Interment to follow at the Lehi City Cemetery, 1525 N 600 E.