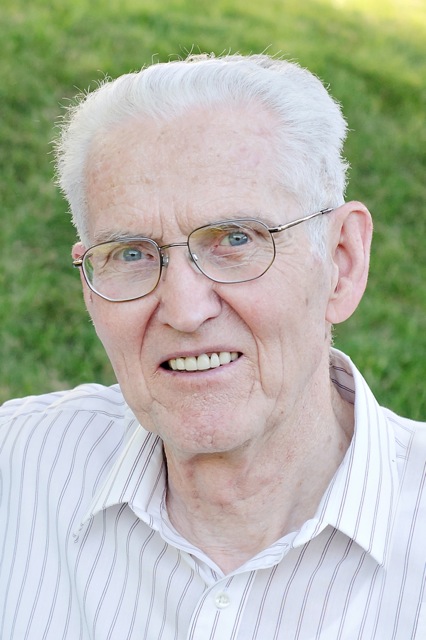 Harvard Roy Hinton
1921–2018
Our wonderful father, grandfather, and friend, Harvard Roy Hinton, passed away peacefully on July 8, 2018, at the age of 97. He was born on May 22, 1921, the sixth child of nine, to Bernard B. and Isabel Hilton Hinton of Hurricane, Utah.
He attended Hurricane High School (student body president) and Branch Agricultural College in Cedar City, where he excelled in many sports.
Harvard served an LDS mission to the Central States, following which he served his country as a cryptographer during World War II. Upon returning home, he attended Brigham Young University, where he met his eternal sweetheart, Rose Marie Brokaw. At BYU he excelled in both academics and athletics, graduating with his B.S. in 1948.
He studied law at the University of Utah, graduating and passing the bar in 1950. A year later he opened his law office in Lehi, Utah, where he practiced for nearly 20 years, working as attorney for Lehi City and the Alpine School District. Harvard was elected as a state senator for Utah County and was later appointed as deputy secretary of state and deputy state treasurer. He initiated Utah's Unclaimed Property Division.
His life was one of service to family, church, community, and profession. As an active member of the LDS Church, he served in many positions, including bishop (9 years), high council (10 years), three missions with Rose (Mauritius, South Africa, and Western Europe), and in the Mount Timpanogos Temple (12 years).
Harvard was a kind, gentle, and honorable man, held in high esteem by all who knew him. He was a tender and loving husband and an exemplary father and grandfather.
He is survived by seven children, their spouses, and two daughters-in-law: Scott (Sharon) of North Logan; Dwayne (Laura) of Orem; Anne (Elbert Pratt) of El Paso, TX; Glenn (Vicki) of Portland, OR; Carlton (Becky) of Lehi; Dwight (Trish) of Sun Lakes, AZ; Esther (Cory Conder) of Great Falls, MT; Kristi Wangsgard (Mark) of Rio Grande City, TX; and Laurie Hinton of Orem. He is also survived by a brother, Verdell Hinton, of St. George, as well as 43 grandchildren and 50 great-grandchildren. He was preceded in death by his wife, Rose Marie; a son, Gaylen; and a grandson, David.
Funeral services will be held at 2 p.m., Thursday, July 12, 2018, at the Lehi 9th Ward Chapel, 481 East 300 North. Friends may call at the Wing Mortuary, 118 East Main, Lehi, on Wednesday, July 11, from 7–8:30 p.m. and at the church on Thursday from 12:30–1:30 prior to services.
Interment will be in the Provo City Cemetery. Condolences may be sent online at www.wingmortuary.com