Norma Carol Newberry Rhodes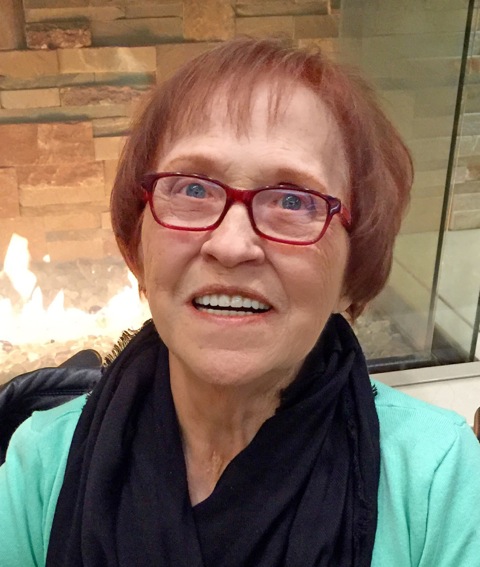 1933-2019
Norma Carol Newberry Rhodes, 85, passed away peacefully at home on Thursday, January 10, 2019, having had the opportunity to bid farewell to many family members and looking forward to a sweet reunion with her husband, Jim, who passed away in 2011.
Born September 6, 1933, in Fort Scott, Kansas, to Ova Lilburn Newberry and Edith Irene Stauffer, Carol was raised as an American Baptist. She twice survived diphtheria as a child. She was a bright student who skipped fifth grade and graduated from high school at age 16. She was proud to be a Campfire Girl and a Rainbow Girl (sponsored by the Masonic Order). She graduated from Ottawa (Kansas) University with a bachelor's degree in English and a double minor in art and music.
At the university, she met James Lester Rhodes while they were both in the traveling choir. They married on May 23, 1954, and after graduation Jim began a career in the U.S. Marine Corps. On May 17, 1958, the couple became members of The Church of Jesus Christ of Latter-day Saints. They were sealed in the Mesa, Arizona Temple on January 14, 1977.
Jim became a major in the Marine Corps, and he and Carol became parents of four children. Carol worked as a school teacher and as a receptionist for a chiropractor, and often had the responsibility of taking care of the family while her husband was on military deployment. When Carol did find time for hobbies, she loved to paint, sing, play piano, and work on genealogy and family history. She also indulged in treats of ice cream, chocolate, and Dr. Pepper.
After Jim retired as a major from the Marine Corps, he and Carol adopted nine additional children.
During her life, Carol lived in Fort Scott, Kansas; Ottawa, Kansas; Dumphries (near Quantico), Virginia; Jacksonville (near Camp Lejeune), North Carolina; Albany, Georgia; Pittman and Woodbury, New Jersey; Brookhaven and Swarthmore, Pennsylvania; Tempe, Arizona; and Lehi and American Fork, Utah.
She is preceded in death by her husband; son Mark David Rhodes; grandsons, Elijah James Lamb, Steven Kirk Romney, and Michael Benjamin Romney; and great granddaughter Kynslee Jean Lamb.
She is survived by children, Alan (Terri) Rhodes, Janet (Scott) Lamb, Kathy (Richard) Romney, Michael (Brenda) Rhodes, Anne Marie (Sean) Davies, Matthew (DeAnn) Rhodes, Jennifer (Paul) Miller, Susan and Christopher Rhodes, James (Michelle) Rhodes; Jacob (Heather) Rhodes; and John (Sally) Rhodes; 56 grandchildren; and 42 great grandchildren.
A viewing will be held Friday, January 18, from 6-8:00 p.m. at Wing Mortuary, 118 E. Main Street, Lehi, Utah. A funeral service will be held Saturday, January 19, at the LDS Chapel at 1152 North 400 West, American Fork, Utah, from 1-2 p.m., with a viewing from noon to 1 p.m. prior to the service. Interment, Lehi City Cemetery. Online guest book at wingmortuary.com.