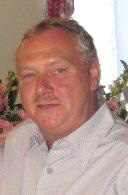 1960-2018
It is with great sadness that we announce the passing of Roger Dal Barney (58). He passed away peacefully at University of Utah Hospital on Monday December 3, 2018. Roger was born on November 6, 1960 in Ogden Utah to Ephram and Leora Haycock Barney. He had two brothers Jim (Kathy) and Jay. He also had three sisters Joy (John), Peggy (Ron), and Terri. He married Tammy Shipp on March 15, 1986 in Salt Lake City Utah. They had three children: Derick (Virginia), April, and Jennifer (Josh), they had four grandchildren- Cloie, Clarabelle, AJ, Harmony, and one on the way, due in July.
Roger was a cook/manager most his life, he retired from Tangies Cafe after almost 15 years. Roger enjoyed watching football, painting, and spending time with family and friends. Roger was a diehard Raiders fan. He will be deeply missed by his family and friends. He is survived by his wife, children, grandchildren, brothers, and sisters.
At Roger's request there was no viewing or funeral. He requested to be cremated and for everyone to celebrate his life. There will be a memorial service held at a later time, for details please contact Jennifer (daughter) at jenniferbarney1011@gmail.com.