"I don't want Lehi for sale," says Councilmember Paige Albrecht in City Council meeting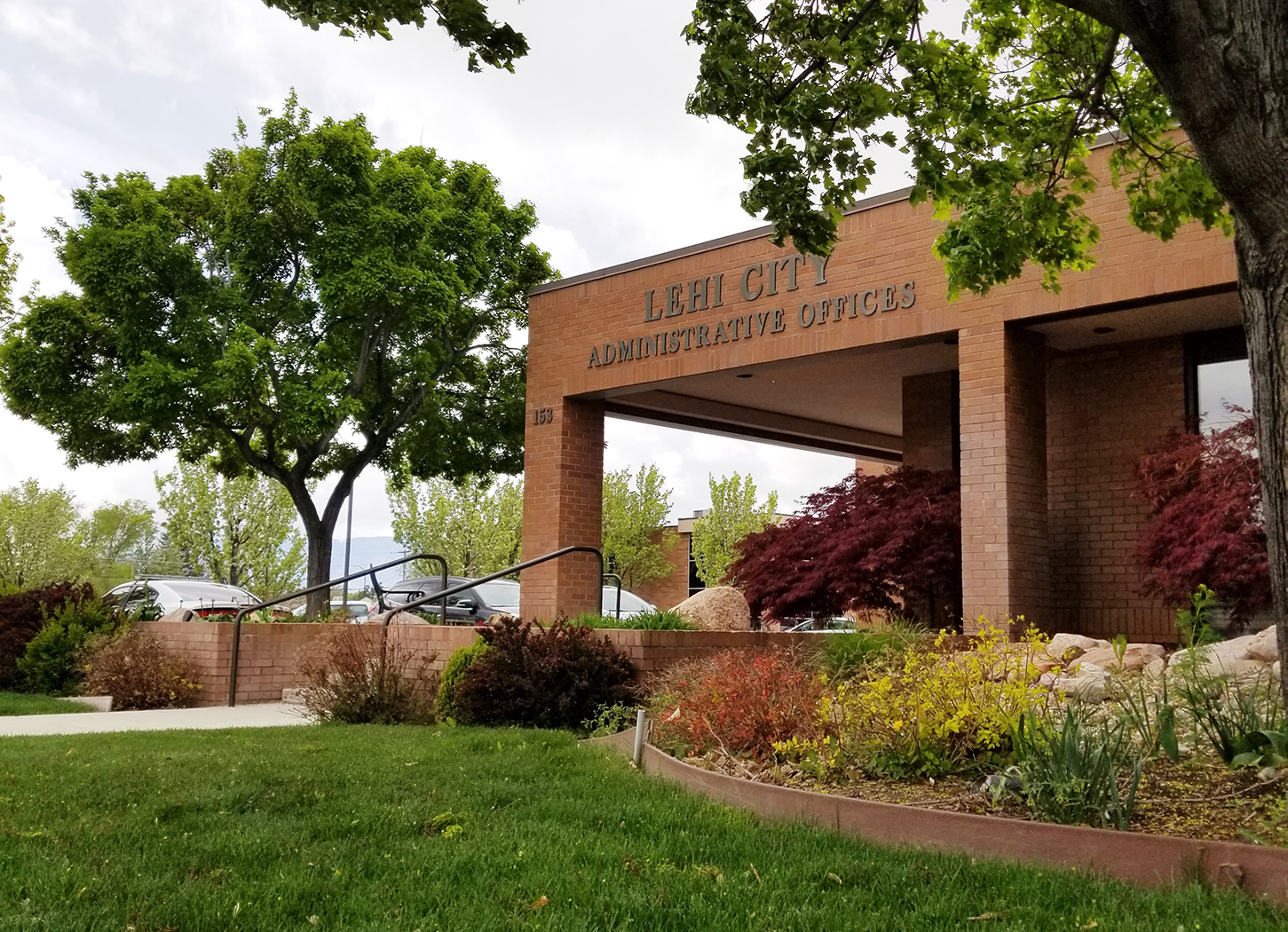 City agrees to save trees near Gammon property
Lehi City Council members and Mayor Mark Johnson met in City Council Chambers on Tuesday, May 28.
In Pre-Council meeting, an advertising services contract with Baum Marketing which was negotiated by Lehi City leaders generated comment by City Council members. The contract was brought before the Council for approval in the May 14 meeting but was not approved pending further discussion by staff. The contract had been provided to the Council only one hour before City Council meeting on May 14, and Councilmembers felt there was not adequate time to read and consider the details of the contract.
The contract, prepared by the marketing firm, would potentially generate revenue for Lehi City recreational facilities by selling signage space in ballparks, on bridges and other Lehi City structures.
Marlin Eldred, Lehi City Director of Economic Development, addressed questions by Council member Albrecht. She said, "We are in uncharted waters. I don't want Lehi to be for sale. As a [former] member of the Planning Commission, we spent hours looking at the signs and billboards."
When asked if an RFP [request for proposal] for the services had been prepared by the Lehi City, Eldred said that they would write an RFP and see who would respond. Councilmember Hancock said, "We need to have transparency." Councilmember Johnny Revill asked, "Why is this done so late in the game?" Mayor Johnson said, "What is the value [of advertising space], we don't know." An RFP will be created by Lehi City.
Another item of discussion in Pre-Council meeting was Lehi City employee benefits. David Kitchen, head of Lehi City Human Resources, said employees will receive a 4% pay increase. The issue of response time for heads of departments was also discussed. There is a 20- minute response time requirement for Lehi City Managers. A suggestion was made to increase minimum response time to 30 minutes. A discussion was also held regarding overtime pay and vacation time.
Lehi City Administrator, Jason Walker, addressed the problem of increased GRAMA [Government Records Access and Management Act] information requests. Lehi City Attorney, Ryan Wood, spoke regarding the challenge of media outlets or individuals on a "fishing expedition. We need the scope of the request to be narrowed or we need to charge a fee," suggested Wood.
The groundbreaking for the new Public Safety Building will be held June 18. "The name of the building will be the Joseph Adams Public Safety Building," said Walker.
Regular City Council meeting began with the Patriot Award being given to Fire Chief, Jeremy Craft and Battalion Chief, Tim Robinson.
During the public input session of the meeting, Roena Gammon thanked the City for their support about saving the Heritage Trees in her neighborhood. "We have about 1,600 signatures on our petition to save the trees," said Gammon. Lorin Powell, Lehi City Head Engineer, assured Gammon the trees would stay. "We are planning a meandering asphalt paved pathway. The trees will stay. They will need some pruning. We hope to restore the trees to better health," said Powell.
Dan Jessop addressed the Council about his traffic concerns on Nuttall Drive. "We counted about 2,400 cars on the street in one day. We need speed bumps, crosswalks, or additional police presence," said Jessop. Mayor Johnson, quipped, "WE solve one issue and create another."
The following agenda items were unanimously approved by the Council:
Consideration of Resolution adopting the budget and consolidated fee schedule for the City of Lehi for the Fiscal Year 2020. Mayor Johnson said, "This is the biggest decision all year and only one or two people comment."
Consideration of Resolution approving the adoption of the Lehi City Traverse Mountain Trails Master Plan. ("This is an incredible use of the land," said Mayor Johnson)
Wasatch Front Investment Properties Annexation approximately 1.04 acres of property located at 1500 North 1255 West with a proposed R-1 Flex zone.
Consideration approving the Carl Conde Zone change, approximately 1-acre of property located at 2145 West 700 South changing the zoning from TH-5 to RA-1.
Consideration approving the Porter's Place Zone Change, approximately 0.21 acres of property located at 24 West Main Street changing the zoning from Mixed Use to Historic District.
Consideration of a resolution of intent to annex the Carlson annexation, .0.93-cares of property located at 2500 North 1200 East.
Consideration of an amendment to the Lehi City Development Code, Chapter 37, Design Standards.
Two items were not unanimously approved. The first was the Dixon/Ivory Zone change on approximately 9.3 acres of property located at 3200 North 300 West, changing the zoning to R 2.5. This controversial project was approved by all Council members but Albrecht.
The second project was a general plan amendment for Creative Campus, approximately 5.11 acres of property located at 2860 North 1200 West, changing the land use designation from VLDR (very low-density residential) to NC (neighborhood commercial). Several area residents spoke opposing the change. Mike Shriner, a spokesman for the Fox Run neighborhood said, "This is not a good fit for the neighborhood. There is no buffer between the development and the residents."
Nolan Johnson, property owner adjacent to the development, said, "There are some issues that need to be worked out. I don't want to be boxed in. This will diminish my property value." Rebecca Wells also was opposed to the development.
The problem according to Kim Struthers was, "With the new connectivity standards we need to have another outlet to 1200 West." One resident said, "Connectivity is hard to do now because so much has already been developed."
The Creative Campus project was approved with Condie, Southwick, Hancock voting "yes" and Albrecht and Revill voting "no."
The nearly three-hour meeting was adjourned at approximately 9:15 p.m.
This article was updated on June 6, 2019 at 7:45 p.m