Lehi girl chosen to take T1D fight to Washington D.C.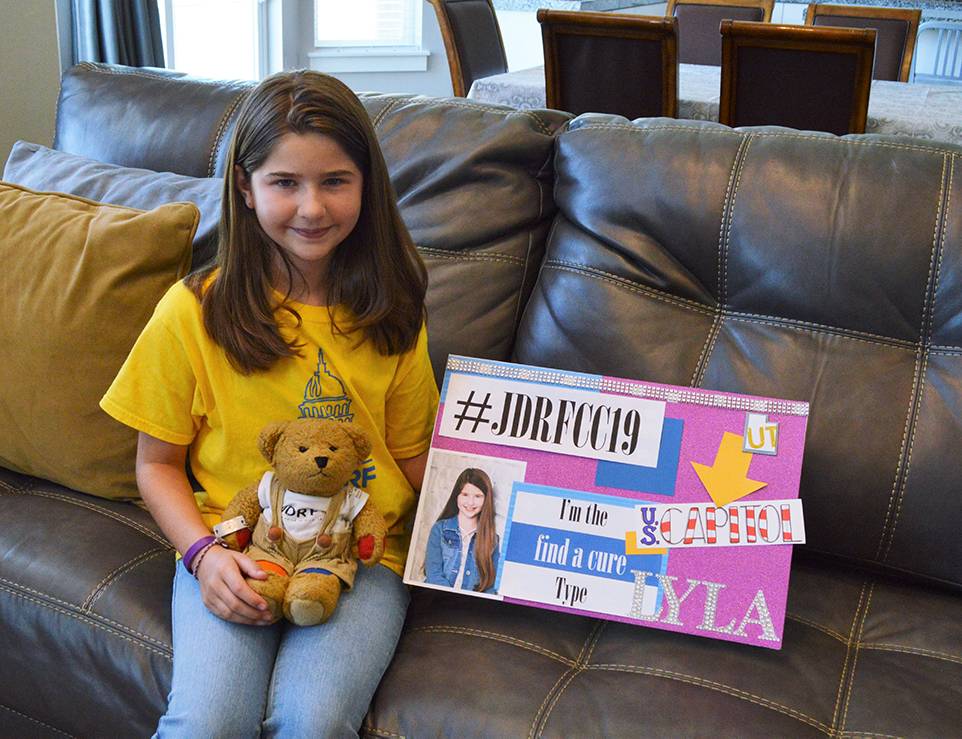 Each year the Juvenile Diabetes Research Foundation (JDRF) chooses 150 children from around the country with Type 1 Diabetes (T1D) to go to Washington D.C. and represent the foundation and the millions of people with T1D. This year, after years of applying, Lehi's Lyla Jackson (10) is one of three children from Utah chosen by the JDRF from among hundreds of applicants to speak with Senator Mitt Romney, Senator Mike Lee, and Representative John Curtis about the needs of the diabetic community.
"I'm going to talk to them about three things that are important to Type 1 Diabetics like me. First, the renewal of the Special Diabetes Program," said Lyla Jackson. The Juvenile Diabetes Research Foundation funds research, advocates for policies that accelerate access to new therapies, and provides a support network for millions of people around the world impacted by T1D. The Special Diabetes Program receives money from the federal government for organizations such as the JDRF.
"Second, the affordability of insulin. Pharmaceutical companies know that diabetics need insulin to survive, so they have quadrupled the price of a vial of insulin. People who can't afford insulin try to manage their blood sugar with food, but that's not safe. There are many other things that affect blood sugar, like your mood, activity, and even the weather. We want to get that price down so that everyone can stay healthy," Lyla continued. It is estimated that up to 50% of type one diabetes ration insulin, which can lead to serious health complications.
When Jackson was diagnosed with T1D at the age of 22 months, a vial of insulin was about $100. Eight years later, that same vial of insulin is about $450. The bigger the person and the more food they consume, the more insulin they need. Senators and members of Congress can challenge pharmaceutical companies to reduce the price of insulin. "People shouldn't have to choose between buying insulin and paying their mortgage," said Greg Jackson, Lyla's father.
"One of the interesting things about insulin is that it has not been changed in 20 years. It's not like they've come up with better insulin. We're paying so much more now for the exact same product and that's primarily profit for pharmaceutical companies," added Lyla's mother, Sue Jackson.
The third subject Lyla will bring up while she's in Washington D.C. is what she refers to as "great choice." Right now, insurance companies can dictate what products their customers use to manage diabetes and if the customer doesn't use those specific products, the insurance company may refuse to cover it, forcing consumers to pay out-of-pocket or use a product that doesn't work as well for them. "It's a hard disease as it is. You should be able to choose how to manage it, to choose what's best for you," said Sue Jackson. The JDRF is trying to advocate for insurance companies not to be allowed to limit choices for families dealing with T1D.
The impact of 150 children with T1D speaking to Congress for the JDRF has been immeasurable over the years. Lyla Jackson has done her homework and she's ready to tell her story in Washington D.C. She already has her parting words for the Utah Senators and Congressman planned. "I'm going to tell them to remember me when they vote on renewing the Special Diabetes Program," said a very determined, well-spoken Lyla Jackson.