Lehi welcomes another national company to Silicon Slopes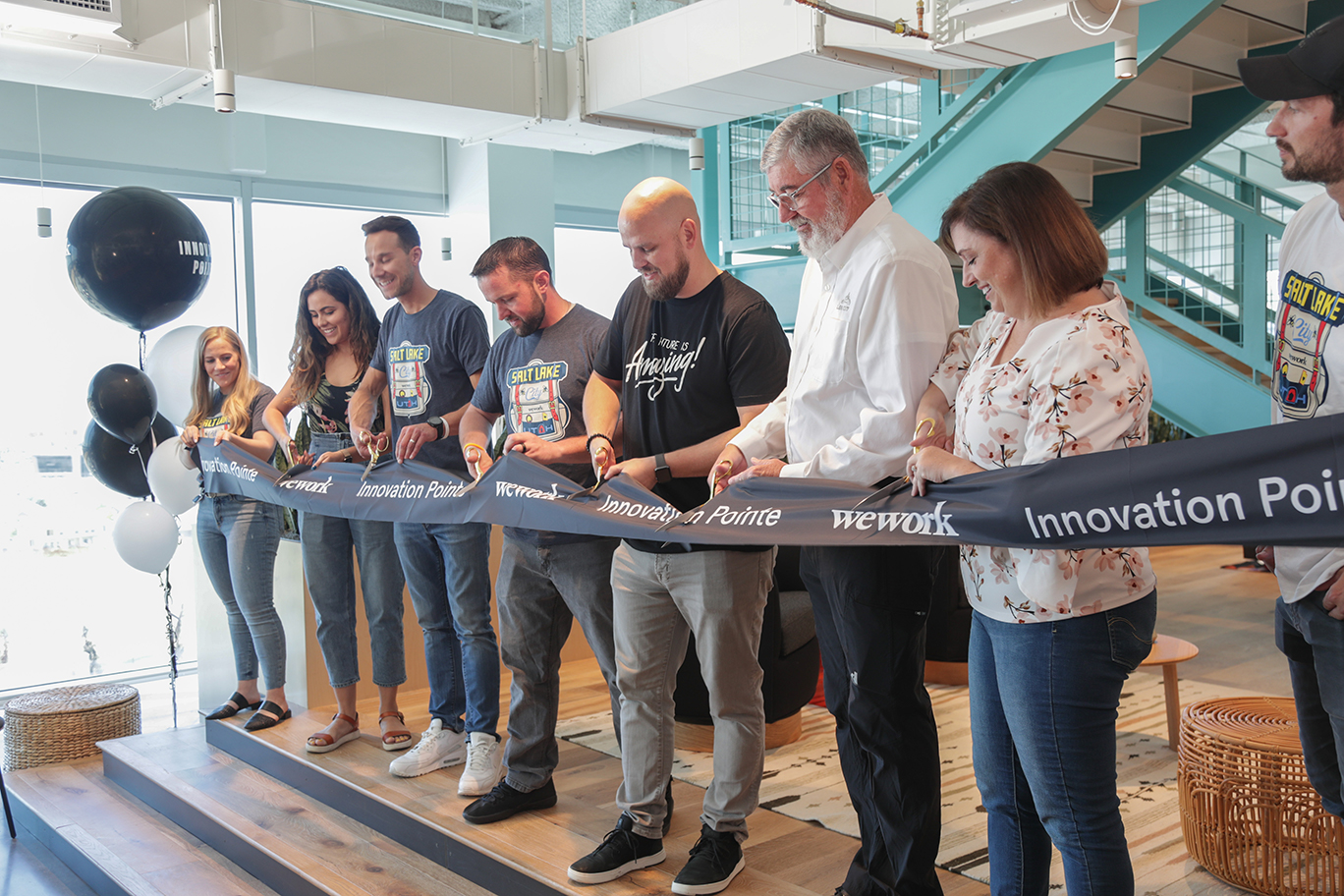 In the heart of Lehi's technology scene, WeWork, a coworking space company, officially opened its doors on Monday following a ribbon-cutting ceremony.
The Lehi location of WeWork can accommodate about 1,000 members on two floors of the five-story building located at Innovation Pointe, 1633 W. Innovation Way. According to Ryan Smith of WeWork, "The floors feature light-filled lounge areas, well connected conference rooms and sleek private offices." The coworking space is used by WeWork members ranging from entrepreneurs, freelancers, and startups to artists, small business, and even divisions of large corporations. The 460,000 global WeWork members have access to any of the 485 WeWork locations, including Lehi, in 28 countries and 105 cities.
"We have had our eyes on Utah for quite some time now and we are very happy to have found such a great space in Lehi. We are looking forward to opening doors to the business community of Lehi and surrounding areas, providing large and small businesses and entrepreneurs the space, culture and flexibility that will help attract and retain talent," said Nathan Lenahan, General Manager of Texas and Mountain West for WeWork.
"We empower companies to find and build community in thriving, innovative spaces in amazing states like Utah without sacrificing global reach and connectivity. When you're a WeWork member you have access to our global community, from Bogota to Ho Chi Minh City, Lehi to Singapore," said Lenahan. "WeWork might be a global company, but we show up with a hyperlocal playbook built to serve our members no matter where they are from or the size of their organization, from a two-person startup to the one-third of Fortune 500 companies that call WeWork home."
"Lehi City is frequently listed among one of the fastest growing cities in the country. We continue to attract leaders in the high technology and innovation fields. WeWork will feel right at home in Lehi City where we have a skilled workforce coupled with a great location," said Lehi Mayor Mark Johnson.
"We welcome WeWork as they bring their innovative office solutions to Utah. The flexibility and vibrancy of a WeWork workplace coupled with the drive and determination of Utah's entrepreneurs promises to be a winning combination for Utah's Silicon Slopes," said Utah Governor Gary Herbert.
WeWork (wework.com) was founded in 2010 and is based in New York City. WeWork recently acquired Utah company, Teem, a software platform that helps people better utilize space and employees be more productive. There are plans for additional WeWork space to be built out in Lehi to accommodate an additional 980 desks on two more floors. This phase will open in the first quarter of 2020.