Skyridge duo second in the nation at SkillsUSA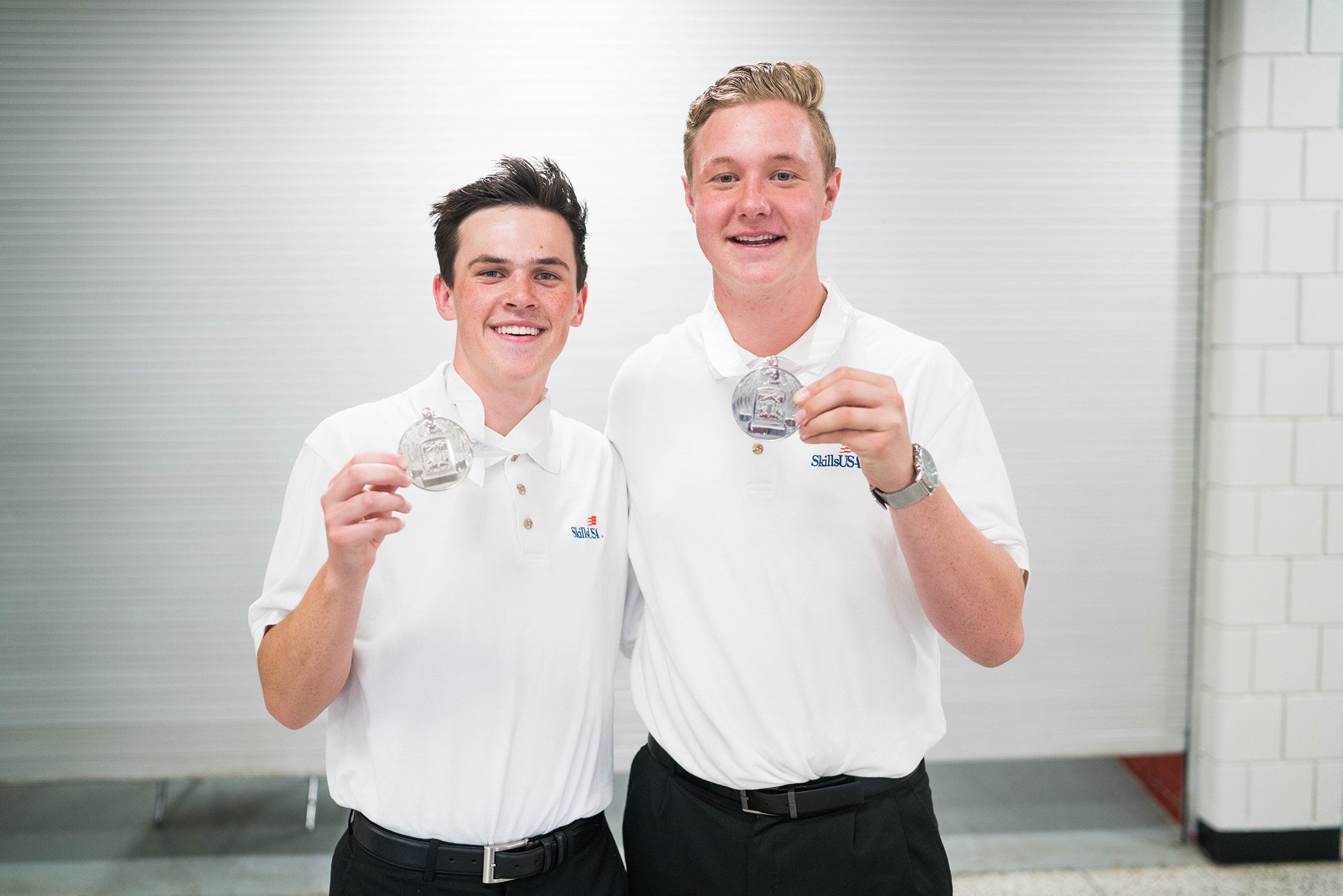 The annual SkillsUSA competitions took place June 24 – 28, 2019, in Louisville, Kentucky. Recent Skyridge High School graduates Tyler Romrell and D.J. Gray competed in the Television Production competition and won second place in the nation for their one-minute commercial.
SkillsUSA is a national membership association serving middle school, high school, and college students who are preparing for careers in trade, technical, and skilled service occupations. Their mission is to help members become world-class workers, leaders, and responsible American citizens. At the SkillsUSA Championships, more than 6,000 students compete in 100 occupational and leadership skill areas. SkillsUSA is recognized by the U.S. Department of Education as a successful model of employer-driven youth development training.
In the Television (Video) Production competition at the SkillsUSA Championships, teams of two contestants were required to plan and shoot a video (one minute in length) on location at the event. Editing was completed in the contest area as well. Romrell and Gray had to create a concept for a commercial advertising the Kentucky Exposition Center, a building as big as 18 full football fields where the competition was held, then film and record voice-over (done by D.J. Gray) all in just a few hours on the first day. None of the competitors knew what the subject of their commercials would be beforehand. "It was high stress, but we were used to producing things quickly because we'd been doing it all through high school. We were tuned in to the process. Our teacher reminded us that we would never be under such a tight deadline in real life," explained Gray. Zac Durrant is the Skyridge High School TV Broadcast and Video Production teacher and advisor for The Ridge.
On the second day of the TV/Video Production, competitors had five hours to edit their commercials. The final product was judged with special emphasis on professional production of the video by industry standards, quality of audio and video, and adequate conveyance of the theme to the viewer.
"We wanted to play to our strengths and make a really professional, high-quality commercial. Our goal going in was to make the best video we could possibly make," said D.J. Gray. On the final day of the SkillsUSA Conference, the winners were announced at a big party/ceremony. Gray and Romrell were called up to the stage and awarded second place in the nation for TV/Video Production. "It was just the best way to be recognized," remembered Gray.
Tyler Romrell is heading to Mexico on a service mission for The Church of Jesus Christ of Latter-day Saints next month. D.J. Gray is going to the University of Utah this fall, majoring in Marketing and Advertising. Gray's goal is to work for Avalanche Media, a digital marketing company based in Lehi. "SkillsUSA was the last big moment of our high school experience. Everything we'd done was leading up to that competition. Having that title on a resume is the biggest thing we got out of the whole experience," said Gray.