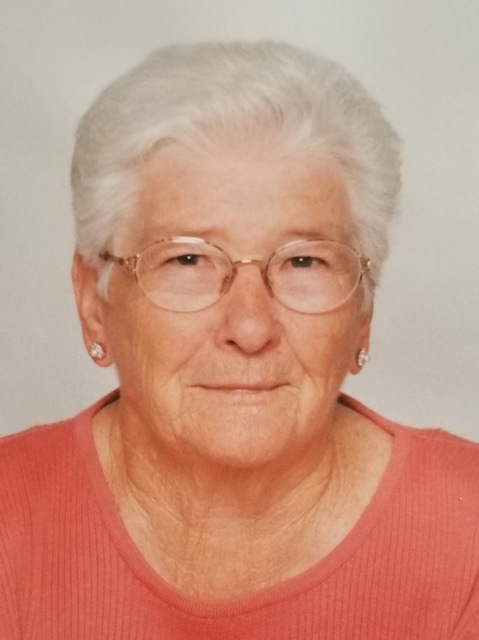 1925 – 2019
Doris J. Barnes, beloved wife, mother, grandmother, and friend passed away on Tuesday, July 9, 2019, at the age of 94, after a valiant battle with a long-term illness.
Born to Wilma Harmon Johnson and Fern Ann Gough on May 14, 1925, in Lehi, Utah, she was the youngest of five children and was raised most of her life by a widowed mother. She married Allen Clinton Barnes on June 19, 1945, and settled in the home they built together in American Fork, Utah. She served as a school lunch cook for the Alpine School District for over 25 years and was beloved by her associates and the school children she greeted every day in her lunch line. 
Doris served on the "Old Folks Committee" in American Fork for many years and was both a Mutual and Primary teacher in her LDS 6th Ward church. Doris sang in the local American Fork Civic Choir, her church choir, and with her daughter as well as a ladies quartet made up of neighbors and friends. She was an accomplished cook and loved playing the piano, crocheting, knitting, and quilting.
Mother to one daughter, Janeen B. Elliott (John) of Mesquite, Nevada and two sons, Kim (Debbie) of St. George, Utah, and Brent (Shawn) of Taylorsville, Utah, and mother-in-law to Connie Simms, of Cedar Hills. She was a grandmother to nine grandchildren and multiple great and great-great-grandchildren. She is preceded in death by her husband, Allen, parents, siblings, son Brent and son-in-law John, as well as many of her dearest friends and neighbors.
Graveside services will be held Saturday, July 13, 2019, at 11 a.m. in the Lehi City Cemetery, 1100 North 400 East, under the direction of Wing Mortuary. Online guest book at wingmortuary.com.