Pioneers take on Century High Diamondbacks in Pocatello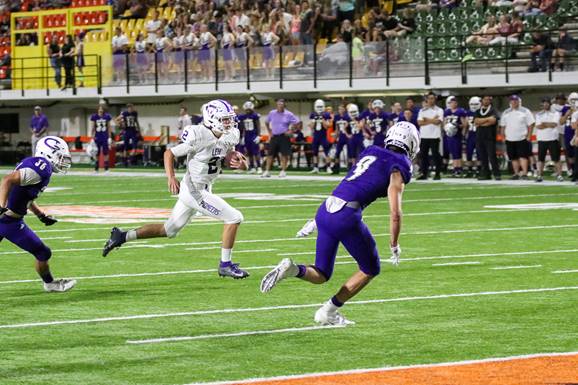 The Lehi football team travelled to Pocatello, Idaho, on Saturday, August 31, to meet the Century High Diamondbacks in the 12th annual Rocky Mountain Rumble. For the second week in a row, the Pioneers came away with a decisive victory – defeating the Diamondbacks 62-27.
Lehi was one of four teams representing Utah in the Rumble this year. The Orem, Tooele and East High School football teams also defeated their Idaho opponents.
Lehi Offensive Summary
The Lehi offense was productive, scoring seven touchdowns. Junior quarterback Creyton Cooper tossed three touchdown passes (McKay Wall 62-yard, Jaden Greenwood 9-yard, McKay Wall 5-yard) and rushed for two more scores (9-yard, 48-yard). Senior running back Carsen Manookin had three rushing touchdowns of three, 69 and two yards.
Lehi Defensive Summary
The Pioneer players had more picks that Peter Piper. The Lehi defensive backs and linebackers snatched five interceptions. Freshman Kadiyon Sweat initiated the aerial thievery early when he intercepted a pass on the Diamondback's first possession. Tyler Ehat grabbed an interception late in the first half and Maoputasi Young had two in the second half. Linebacker Britton Wagstaff put an enormous exclamation point on the Pioneer victory when he scored Lehi's final touchdown on a 33-yard pick-six midway through the fourth quarter.
The Pioneers (2-1) start region play at home on Friday at 7 p.m. against the Mountain Ridge Sentinels (0-3). Mountain Ridge is a new Jordan School District high school located in Herriman.
The 2019-2020 school year marks a new era in Lehi High School athletics. The Pioneers are competing in the new 5A classification, Region 7 – in all sports. The other teams in the region are Alta, Mountain Ridge, Orem, Timpanogos and Timpview. Mountain View High School will remain 4A in football, but will compete in Region 7 in all other activities.