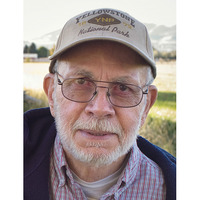 1938-2019
Our loving husband, father, and grandfather, Gary Gay Gurney, passed away on September 9th after a long battle with cancer. He passed peacefully at home after a weekend surrounded by his loving family.
Gary was born in Lehi on August 14, 1938, to Oscar Gurney and Wanda Radmall. He had one older brother, Glen. He married his sweetheart, Joan Wilcock, in 1965, and was later sealed to her and their children in the Provo LDS temple.
Gary grew up in Lehi and spent his childhood on the family farm, horseback riding. He always loved nature, animals, and the outdoors. He enjoyed camping, fishing, and rock hunting. He worked at Tooele Army Depot as a heavy equipment operator until he retired to spend more time on the farm. Farming was his lifelong hobby; he raised cattle and spent many summers hauling hay and sleepless nights irrigating the fields.
Gary worked many years in the baptistry at the Provo and Mount Timpanogos LDS temples and cherished the friendships he made while he was there. He held various church callings over the years, always enjoying the opportunity to serve. He had a charming sense of humor and positive attitude that stuck with him to the very end. He considered his family one of his greatest blessings. He particularly loved spending time with his grandchildren and great-grandchildren, which brought him great joy and much-needed comfort during his later years while he wasn't always in the best of health.
He is survived by his wife, Joan; their four children, Russell (Anne), Geri McCormick (David), Lora Cunico (Jeff), and Trent; and his eleven grandchildren and fourteen great-grandchildren, with one more great-granddaughter on the way. He was preceded in death by his parents and his brother Glen. His family always looked up to him as a great example of hard work, unconditional love, and faith. We love him dearly and are all heartbroken at the loss of such a wonderful man. We will always remember and miss his announcements at family parties, random singing, crossword puzzles, walking sticks, newspaper doodles, burnt toast, and the world's best hugs.
Funeral services for Gary will be held at the new Lehi Stake Center (1251 W 900 N, Lehi, UT), located next to his home and built on the farm ground he so dearly loved, on Friday, September 13 at 11 a.m. with a viewing at 10 a.m. There will also be a viewing Thursday, September 12 from 6-8 p.m. at Wing Mortuary (118 E Main St, Lehi, UT). Interment, Lehi City Cemetery. Online guest book at wingmortuary.com.