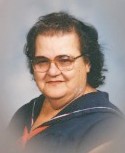 1926-2019
Elizabeth D. Girot ("Betty"), passed away at the age of 92 on September 14, 2019, five days after what would have been her 69th wedding anniversary. Betty was met in heaven by her husband, Dominick; her middle daughter, Barbara Ann; her own mom and dad; her brother, Calvin; and her sister, Emily. She left behind her baby sister, Antoinette McCord; four children, Elizabeth "Tina" Rosemary Jackson (Leon); Michael J. Girot, Susan Kay Girot, and Ann Marie "Annie" Taliaferro (Jim). She also left behind four grandchildren, Michael L. Jackson (Susan); Connie O'Hara (Matthew); Shannon Bullock (Jeremy), and AnnJeanetta "Anjie" Jackson; and nine great grandchildren. Most importantly, she left behind a whole slew of memories and funny stories.
Born in Lattimer Mines, Pennsylvania, on October 10, 1926, this Italian Catholic "Philly girl" somehow met an Italian Catholic Indiana boy in Utah, of all places. After a lengthy courtship of six-weeks, they married and raised a loud Italian Catholic family in the small sleepy town of Lehi, Utah. Lehi would never be the same. Friends and family remember Betty's ability to control a room with her very presence; her kindness and always warm welcome; her "amazing Sunday suppers and the search through the pot of sauce for just the kind of meat you wanted, whether it was a meatball, pork chop, or sausage," as one of her grandchildren put it, and "the sassy awesomeness that only Grandma has." Most of all, Betty was fiercely loyal to her family and friends and epitomized the phrase "never cross a mama bear."
The family expresses a special appreciation to the care givers at Bel Aire Senior Living center in American Fork, and to Paulene, the hospice nurse who cared for and comforted our mom in her last days.
No formal service will be held. Friends, relatives, and well-wishers may pay their respects and chat with family on Thursday, September 19th at 10 a.m. at the Lehi City Cemetery, 1525 North 600 East, Lehi, Utah. Dedication of the grave to be held at 11 a.m.
In memory of Betty, please send flowers to your own mother and loved ones, tell them that you love them while you still can, and have a big bowl of pasta in her memory.