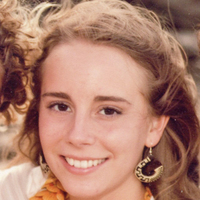 1986-2019
Madelyn Anne Peet passed away peacefully and unexpectedly on October 12, 2019, in Sandy, Utah. Maddie was born to Lesa Ann Evans Peet and David Hirst Peet in American Fork, Utah on March 16, 1986. She is the middle child with an older brother, Evan, and a younger sister, Kimberly. Maddie's childhood was spent with her loving family in Highland, Utah, and since then she has lived in State College, Pennsylvania, Dallas, Texas, and most recently, Sandy, Utah.
Maddie was an incredible aunt who shared a very special connection with her nieces and nephew, doting on them with her time and gifts of beloved books. While her passing was unexpected and devastating, her last day was filled with love, surrounded by family doing what she loved – cooking a family dinner, spending time with her nephew and nieces, and watching movies.
Maddie grew up with a love of reading, art, gymnastics, cheerleading, piano, and family and friends. Following high school graduation, Maddie attended the University of Utah where she graduated Magna Cum Laude with a degree in English. She then continued to pursue her literary passion by enrolling in Penn State's graduate Literature and Writing program. After completing her schooling, Maddie continued to write beautiful poetry, and play the piano. She also developed talents for painting, jewelry-making, and cooking.
Maddie loved sharing her talents with her family by spending days planning and preparing delicious holiday meals and giving thoughtful, handmade gifts of her art. Maddie lived an adventurous life with many exciting family vacations – lots of camping, European and Hawaii vacations, and Disney trips. Maddie loved being outside and spent as much time as she could hiking, camping, kayaking, fishing, skiing/snowboarding, and even shooting.
Those close to Maddie will forever remember her kindness and generosity, her passion, and how she lifted everyone around her. Maddie's family and friends love her so dearly and are so grateful for the amazing time spent with her. We will tremendously miss the opportunity to spend more time with her in this life, and will anxiously await a future, joyous reunion.
Maddie loves and is loved by all of her family very dearly: her parents David and Lesa Peet; her brother and sister and their spouses and children: Evan and Ariel Peet and their children Elowen and Willa Peet, and Kimberly and Colin Terry and their children Jack, Elizabeth and Natalie Terry; her grandparents: Morgan and Charlyn Evans, and Don (deceased) and Fawn (deceased) Peet; her aunts and uncles and their families: Harvey (deceased) and Debbie Peet and their family, Alan and Nancy Peet and their family, John Peet, Russell and Penny Evans and their family, Madelyn Unga and her family, Malayna Evans and her family.
A viewing was held Friday, October 18, 2019, at Wing Mortuary in Lehi, with services at the Graveside following at Lehi City Cemetery, 1525 North 600 East, Lehi, Utah.