USU Survey shows a majority of Lehi residents "happy"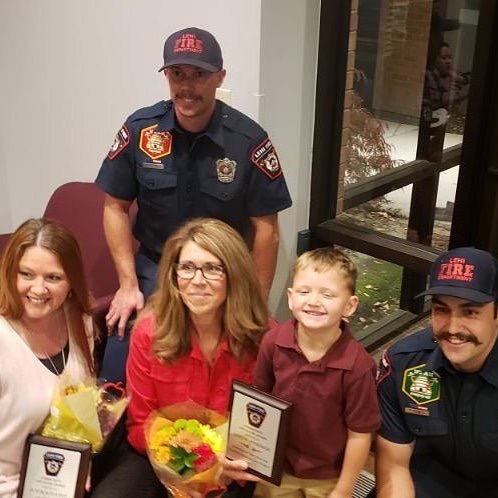 Skyler Beltran | Lehi Free Press
The Lehi City Council convened for its regular meeting on Tuesday October 22 in the City Hall Chambers with all members in attendance.
Community well-being survey results presented
The Council meeting started with a presentation of the results of a Community Well-Being survey conducted by Utah State University. USU Sociology Professor, Courtney Flint, presented the findings. She said Lehi was selected along with 15 other Utah Cities for the survey. The purpose of the study, according to the website was, "In a new five-year Utah Agricultural Experiment Station project, we seek to compare perceptions of wellbeing with indicators of wellbeing across Utah towns, cities and landscapes."
The Lehi survey was conducted in June of 2019 at the Traverse Mountain Harmons, Lehi City Library, and Saratoga Springs Walmart with 126 people participating. Flint noted that only Lehi residents were used from the Saratoga Springs Walmart respondents. Lehi finished this year's study in the top five among participating cities with 92% of residents rating their happiness as either "rather happy" or "very happy".
The study also shared residents' mixed satisfaction with current economic development pace. According to respondents, 46.8% said Lehi is moving "just right" while 41.3% said Lehi is moving "too fast," the other 11.3% of responses included "too slow" or had no opinion. "How was the study conducted?" asked Councilmember Mike Southwick. Flint explained that the study was conducted by well-trained USU students on iPads in front of the study locations. Flint also said the next study will be conducted this Winter and will be an online survey opposed to in-person.
Mayor Mark Johnson concluded the discussion by suggesting the official Lehi City survey results were very similar to the USU results presented.
Lehi City proclaims support of "Epilepsy Awareness Month"
The Council heard a brief presentation on epilepsy and the effect of the disease in the United States. 3.4 million Americans and 30,000 Utahns are affected by epilepsy, a neurological impairment. This is the sixth year Lehi City has supported "Epilepsy Awareness Month," with a proclamation. Mayor Johnson expressed his support by saying "I even wore a purple tie tonight for your presentation."
Lehi receives thanks for continued support of Joseph Adams Scholarship
Lehi City Police Chief Darren Paul welcomed representatives from Utah Valley University, along with Thad and Rosemary Adams, parents of fallen Lehi Officer Joseph Adams, to the Council Chamber. David McEntire, Dean of Utah Valley University's College of Health and Public Safety came to thank the Lehi City Council for the City's continued support of the Joseph Adams Scholarship for students in the University's Police Academy. The City has supported 28 students with over $30,000 in donations since 2004. "I want to express my sincere gratitude to the City of Lehi," said McEntire. Buckey Walters, Director of the Law Enforcement Academy at UVU said, "We want the Adams Family to know this scholarship will go to good use." Chief Paul also mentioned that Lehi City has hired several recipients of the scholarship City Police Force.
Lehi City Fire Chief presents "Community Life Saving Award"
Lehi City Fire Chief, Jeremy Craft presented the "Community Life Saving Award" to four individuals who earned the award because of their quick action during two recent incidents.
The first incident occurred in June of 2019 at a local swimming pool. A 3-year-old boy who didn't know how to swim, fell into the pool for nearly three minutes. A 16-year-old lifeguard, Athos Lopes, and nearby guest, Rochelle Clive, jumped into action, helping resuscitate the young boy through CPR.
The second incident occurred on September 2019 at Lehi's Renaissance Academy. A 5-year-old first grader suffered cardiac arrest and was found face down on his desk. Lorna Anderson, the student's teacher, and Susi Blackhurst, an enrollment staff member, swiftly provided CPR to the unconscious student until medical personnel arrived.
All four award recipients were present, along with both boys whose lives they were credited with saving. The Council Chambers spontaneously stood for a standing ovation at the conclusion of the presentation.
Other City Council agenda items
Public Comment: Lehi Resident, Dale Madsen gave the council notice about a current property line dispute and other issues with the developers of the Creekside Farms Subdivision. Mayor Johnson committed to looking into the concerns with city staff.
Consideration of Resolution #2019-62, approving a Lease Purchase Agreement between Chase Bank and Lehi City for the purchase of two fire apparatus. Petitioner: Lehi City
Unanimously approved.
Consideration of final subdivision approval for the Z-act, a 10-lot residential development located at 1385 West 700 South. Petitioner: Temple Olayan
Unanimously approved.
Consideration of Resolution #2019-64, a resolution expressing intent to adjust the municipal boundary with Saratoga Springs. Petitioner: Edge Homes
Unanimously approved.
Consideration of preliminary and final subdivision approval for the Ridge Office, a 4-lot commercial development located at approximately Triumph Blvd and Ridge Drive. Petitioner: Trevor Evans
Unanimously approved.
Consideration of Resolution #2019-63, appointing a board member to the North Pointe Solid Waste Special Service District. The appointment was Jason Walker, Lehi City Administrator. Petitioner: Lehi City
Unanimously approved.
Consideration of Resolution #2019-65, approving the insurance coverage with the Utah Local Governments Trust. Petitioner: Lehi City
Unanimously approved.