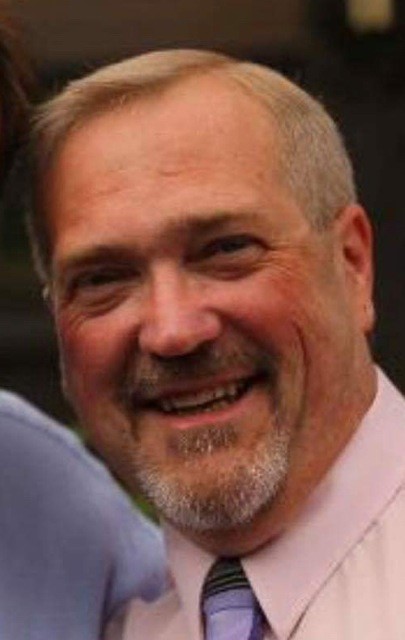 1959-2019
Russell Peter Elmer-Daly, beloved father, grandpa, brother, husband, and friend, died suddenly in his sleep on November 28, 2019. He had just turned 60 years old. Russ was born on November 24, 1959. He was born to Jack and Mae Daly as the youngest of four children – his brothers John and Bob, and his sister Kathy.
Russ had an immense love of his family, community, and music. Russ married his best friend, Steven Elmer on November 11, 2011, at 11:11 a.m. We are all grateful for the eight years of happiness they had together. Russ was a passionate supporter of the Miss Lehi organization, grammar, small-town news, and the hospitality industry. He was a talented pianist and organist and shared that talent frequently with his community and family over the years. Russ also loved puzzles and board games and was particularly gifted at all word games including Boggle and Scrabble. He also loved playing rousing games of Canasta with his family. He was a formidable Cribbage player and if you were on his team, it was basically a guaranteed win. After living in and serving the people of Japan, Russ developed a deep love of the Japanese culture that he shared with his children and grandchildren.
Russ is survived by his husband Steven, children Adam (Jaynann), Adrian, Kate, and Addison; grandchildren Emma and Jack, as well as the mother of his children, Diane Daly. Also, surviving are his sister-in-law Myrna (widow of John), his brother Bob (Karen) and his sister Kathy Stewart (Boyd).
Memorial services will be held Thursday, December 5, 2019, at Wing Mortuary, 118 East Main Street, Lehi, Utah. There will be a viewing before the service from 12:00 to 12:45 p.m. with the service beginning at 1 p.m. There will also be a viewing on Wednesday, December 4, 2019, from 6-8 p.m. Interment will be at Lehi City Cemetery, 1525 North 600 East, Lehi, Utah. Online guest book at wing mortuary.com.
The family would like to thank all those who have been so kind to them these last few days, with a special thank you to those who were kind to their Dad. "We love you, Dad!"