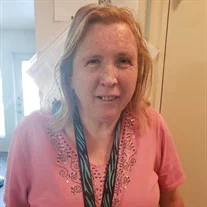 1977-2019
Korina V. Colledge, age 42, passed away on November 16, 2019, in Murray, Utah. Korina was involved in an auto-pedestrian accident on Nov. 9, 2019, and later was reunited with her Heavenly Father on November 16, 2019. She was currently living in Taylorsville. She was born to Ronald and Christie Stowe Colledge on Aug. 10, 1977, in Provo, Utah.
She was a beloved daughter, sister, girlfriend, cousin, and niece to her family. Korina will be remembered as a kind, generous and loving soul who went out of her way to make sure those around her were happy. Her selflessness was why everyone who knew her loved her. She will be greatly missed at family gatherings, birthdays, celebrations and holidays.
Korina loved camping, fishing, her monkey, and making people laugh. She lived and attended schools in Lehi, graduating in 1996. Korina enjoyed participating in the Special Olympics, winning several medals. Korina had a very kind heart and made friends easily. She enjoyed working hard and spending time with friends and family.
She will be sadly missed by her mother Chris Colledge, sister, Michelle Colledge and fiancé, Wesley Clark, as well as many aunts, uncle, cousins, and friends. She was reunited with her father Ron Colledge, grandparents and other family members.
A Celebration of life memorial service was held for family and friends in honor of Korina at the East Stake Center 851 North 1200 East, Lehi, Utah on Nov. 30. A luncheon followed the services. A Go Fund me account under Korina Colledge Memorial Fund has been set up by Becky Stowe. Graveside services will be held at a later date at Lehi Cemetery.