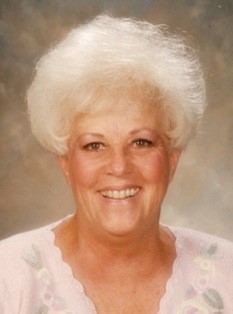 1936-2019
Our Beloved Mom, Grandma, Great Grandma, Sister, Aunt and friend, Berna Dee Henrie Wathen, passed away on December 5, 2019, with her daughters by her side. Berna was 83 years old and passed away due to natural causes incident to age.
Berna was born August 1, 1936, in Ferron, Utah to Samuel Osborne and Nola Maude Henrie. She was the youngest of six girls. Berna graduated from American Fork High School.
Berna married Kay B. Walker in 1954 and they were blessed with two girls, Kathie Lee and Kim Marie. They were later divorced.
Berna married Orlin Wathen in 1972. Some of their cherished memories were going to Alaska for a month in their motor home and many trips to Jackson Hole, Wyoming. As a family, the four of them loved camping, fishing and spending time together. She was a beautiful tole painter, seamstress and loved to do handiwork of any kind. She enjoyed cooking, reading and always made every holiday a special occasion for her girls and their families. She made Christmas magical.
She was always a hard worker inside and outside the home. She worked for Mountain Bell for over 30 years and Alpine School District for ten years. Up until three weeks prior to her death, she was a volunteer at the American Fork Hospital Gift shop every Wednesday. She cherished the friendships she made there. Berna was also a member of the Letecian club and really enjoyed the association of those sweet ladies.
Berna was a member of The Church of Jesus Christ of Latter-day Saints. She served in many callings, her favorite being in the Relief Society Presidency and cook for the Young Women's Girls Camp program on the Ward and Stake level.
Berna is survived by her two daughters, Kathie Lee (John) Rockwell, and Kim Marie (Rob) Price, both of Lehi. She is also survived by seven Grandchildren and 17 Great Grandchildren who will miss her dearly. She leaves behind two sisters, Bobbie Anderton and Arba Thayn.
Kathie and Kim would like to thank the staff at Hearts for Hospice and Harmony Hills for showing such love and compassion to their Mom during the last two weeks of her life.
Services will be at Wing Mortuary, 118 East Main Street at 11 a.m. on Tuesday, December 10, 2019.  There will be a viewing prior to the funeral services from 9-10:45 am. Interment, Lehi City Cemetery.  Online guest book at wingmortuary.com.