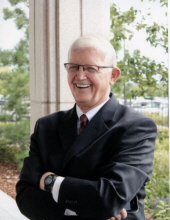 19939-2020
Ralph J. Haws passed from this life on March 2, 2020, with loved ones nearby. Ralph was born March 26, 1939, in Lehi, Utah to Jay Knollin and Edith Broadbent Haws. Ralph had a happy childhood; he attended the College of Southern Utah on an athletic scholarship, playing on the basketball team. He married Connie Ann Dean on March 19, 1958, in the Salt Lake Temple, and they began their life together in Cedar City. Ralph later attended Brigham Young University graduating with a B.S., an M.S., and EdD degree.
Ralph loved his family. He worked hard to make and build happy lasting memories with them. He wanted his family to be forever!

Ralph loved people! He loved visiting with everyone he interacted with. He loved learning about them, and their life. He was definitely a people person. Ralph worked for Jordan School District for over 30 years. He began as a speech therapist and retired as Administrator of Special Programs. He was President of the Jordan Board of Education 2001-2002
Ralph joined the Utah National Guard when he was 17 years old and was a member of the Utah National Guard until 2002. Ralph was the first member in Utah to earn the rank of Chief Warrant Officer 5. For a time, Ralph was with Special Forces, and he loved telling people that the first time he flew in an airplane he had to jump out of it.
Ralph was an active member of the Church of Jesus Christ of Latter-day Saints. He made many dear associations as he served as a Bishop in Midvale and also in the South Jordan singles ward. Ralph and Connie served two missions. They served an 18-month CES mission in the West Indies where Ralph served as a counselor to the mission president. They served an 18-day mission in the Hill Cumorah pageant. Ralph and Connie also enjoyed working in the temple baptistry for several years.
Ralph and Connie are the parents of seven children, Ralph Kelly (Connie), Robert Dean (Karen), Susanne Kuresa (David), Martin Jay (Tiffanie), Angela Driggs (Scott), Patrick Howard (Sharissa), Myndie Tullis (David). They have 25 grandchildren and 14 great-grandchildren. Ralph was preceded in death by his parents, his brother, Hugh, and a great-grandson, Jay Roden.
Ralph's funeral will be held Friday, March 6, 2020, at 11 a.m.at the South Jordan Parkway 9th Ward located at 10200 South 3200 West, South Jordan. There will be a viewing Thursday evening from 6:00-7:30 pm at Jenkins-Soffe South Valley 1007 W. South Jordan Parkway, and Friday from 9:30-10:30 at the church before the funeral.