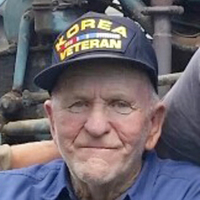 1930-2020
Our loving husband, father, grandfather, and great grandfather passed away on March 15, 2020, in his home. He was born in Smoot, Wyoming on July 25, 1930, to Hugh William Findlay and Gertrude Peterson Findlay. He loved to tease, smile, and especially sing. During hard times, dad offered to quit school and take care of the family dairy farm. He always thought of others first. After a year, he went back for his senior year and graduated with his brother Paul.
While still in high school, he joined the Wyoming National Guard. Shortly thereafter, his unit was called to active duty for the Korean War. He became a tank instructor for M4A3 and M45 tanks at Fort Campbell, Kentucky. He was then sent to Quarter Master School at Fort Lee, Virginia. He served the remaining portion of active duty as an Armorer.
He returned and began classes at Trade Tech in Provo. His home bishop told him that the Lord wanted him to go on a mission. At the age of 26, he was called to Samoa for 2 ½ years. The journey there was rather unusual and included being shown around Los Angeles by the mission president's daughter, not to mention spending a day by himself at Disneyland before boarding a cargo ship for the 17-day voyage.
He arrived and began a proselyting mission. He was then called by his mission President to manage the Church plantation and make it profitable to fund the Church school which was in danger of closing. Dad organized and led a crew that cleared additional land & planted crops (none of which grew in Wyoming). He created new markets, controlled finances, repaired equipment, and had the added responsibility of being the village mayor. The increase in revenue filled the need. He loved the Samoan people and they loved him.
Once back in the states, dad returned to Trade Tech for schooling. He was also introduced to the love of his life, Wanda. They were married in the Idaho Falls Temple. Their family grew by birth, adoption, and foster children including four Samoans, three Indian placement students, and a distant relative from Scotland. Mom and Dad also took in anyone who needed help.
Dad was an active member of The Church of Jesus Christ of Latter-day Saints. He served in many callings including Elder's Quorum President, UVU Ward leadership, temple worker, and primary teacher. Most remembered would be his service in Scouting which included Scoutmaster, National Jamboree Scoutmaster, member of Order of the Arrow, and District Commissioner. With over 50 years of service, he was honored with many awards including the Silver Beaver, and District Award of Merit.
Most days he got up, milked the cow, and left for work before 6 am not returning until 6 pm–then would head straight to the gardens. For several years he ran a home-based blacksmith and welding shop. He enjoyed sharing his skills and never charged enough to cover costs. When it was time for a break it was usually with a fishing pole in hand.
He worked at Tooele Army Depot where he sustained an injury, which ended his days of employment. This resulted in a life of chronic pain.
After leaving the family dairy farm, he was employed as a farm foreman. When no longer a farmer, he had multiple gardens and a cow until he found out he was allergic to milk! Dad loved horses and always wanted a buggy. Starting with the undercarriage of a 19th-century buggy, he completed restoration, bought an Amish horse, and was on the road. He loved to ride around town gathering children for rides (with parent's permission). Family and friends always took the opportunity to ride with him. He drove in the stock parades in Lehi and was very proud of the trophies he was awarded.
Dad taught hunter safety for over 25 years. To him, gun safety was essential. When necessary, he would devote extra time to make sure all his students understood and practiced safe handling, use, and storage of firearms.
Dad served in the American Legion and was a member of the honor guard for many funerals. He was involved in the beginnings of the tradition of displaying flags on Lehi Main Street for holidays. We remember putting up flags with him and taking them down at night. He was very patriotic and had a deep love for his country and respect for the flag.
Dad adored his grandchildren, great-grandchildren, and all children. He loved teaching in primary in his later years. Whenever we went to family reunions, dad would play with the kids and send mom to be with the adults. He truly was a kid at heart.
He has suffered from skin cancer his whole adult life. It became a monthly trip with freezing, cutting, and sometimes biopsies. A few years ago, he was diagnosed with Merkel Cell Carcinoma. It is aggressive cancer that spreads like wildfire through the body in less than six months. A blessing came with immunotherapy that cleared his body of active cancer. Just a few weeks ago a bone scan still looked clear. Dad was a fighter and he wanted time with those new grandbabies.
Dad always had a smile and was a tease. We will miss his beautiful piercing blue eyes, his wonderful hugs, and witty responses. You always knew he loved you. We are so grateful to know that we will see him again with no pain. Love you Dad more than words can express!
He was preceded in death by his parents, brothers: Merrill, Kimball, Ross, & Douglas, sisters; Isabell, Mary Beth, Helen, a grandson, and two foster children. He is survived by his wife Wanda, younger brother Paul, children: Jay(DeAnn) Findlay, Jeana(Jay) Bodine, Janet(Matt) Smith, Alan Findlay, Bryan Findlay, 6 foster children, 20 grandchildren, and 19 great-grandchildren.
Dad's last years required extra care and service. Professionals, neighbors, and friends provided support and care beyond our hope. To all, we are eternally indebted, and extend our most sincere gratitude and love.
Because of the COVID-19 pandemic and the recommendations provided by the state and federal governments, there will be no public viewing or funeral/graveside services. Please sign the online guest book to send your condolences or send a card to the family. Private family service will be held.