Lehi boys hoops fall at Mountain View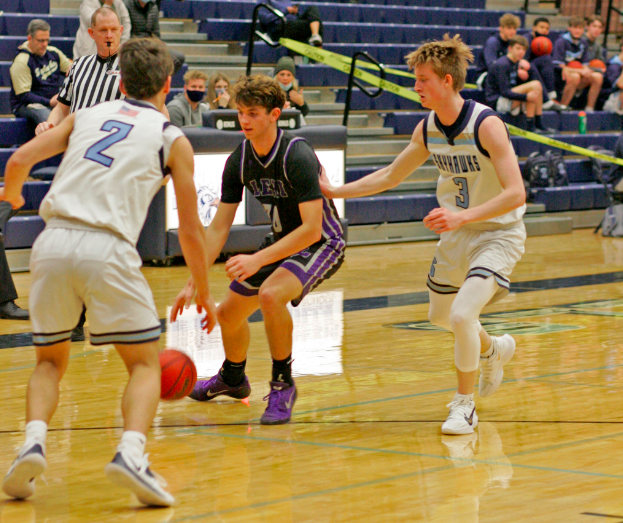 The Lehi boys basketball team came up just one point short on the road Jan. 12 at Mountain View, as the Bruins mounted a late rally to earn a 62-61 victory in a thrilling contest.
The game was a toe-to-toe battle right from the start, with the lead changing hands multiple times. The Pioneers were up just 15-14 at the end of the first quarter but pushed the advantage to 33-25 at the break with some sharp passing and tough defense.
Lehi maintained its lead through the entire third period, but Mountain View reduced the deficit to five points with a triple right before the buzzer.
The Bruins continued to work to regain the advantage and finally did with a 3-pointer when there was 2:01 left on the clock.
The teams traded buckets and leads the rest of the way. Mountain View canned a pair of free throws with 17 seconds to play to go up by three points.
The Pioneers missed a trey which would have tied the score and senior guard Noa Gonsalves grabbed the board and scored a layup, but there wasn't enough time left to make another attempt to get the win.
Senior guard Tyson Hawkins led Lehi's effort with 19 points, eight assists, five steals and three rebounds. Gonsalves finished with 17 points, eight boards, four assists and four steals, while senior forward Peter Amakasu added 11 points and four rebounds.
"It was a hard-fought battle," said Pioneer Coach Quincy Lewis. "We just couldn't hold our lead at the end. Tyson had a good overall game.
"We're two points from being 3-0 in league play," he added. "We need to figure out how to win these close ones."
Friday's contest with Alta was postponed due to COVID protocols affecting the Hawks.