Pioneer girls basketball tops two more region teams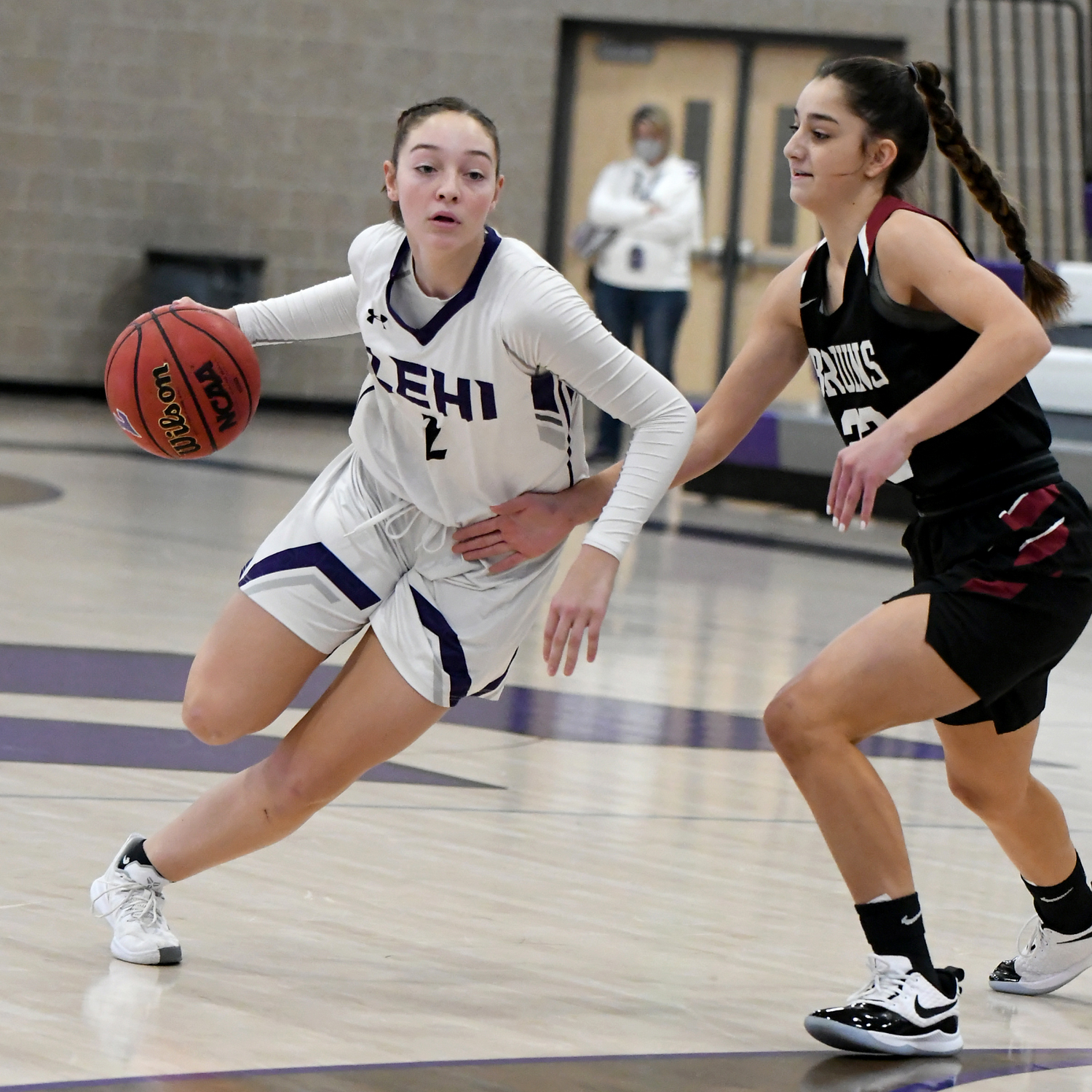 Beky Beaton | Lehi Free Press
The Lehi girls basketball team continued on a roll in Region 7 contests this past week, beating Mountain View at home on Jan. 12 and then winning at Alta on Jan. 14.
Lehi 47, Mountain View 28
The rugged Pioneer defense continued to rule the floor as the Bruins never managed to score double digits in any quarter.
They trailed 6-16 at the end of the initial period. They matched Lehi point for point in the second quarter but couldn't cut into the deficit, and the gap continued to widen during the second half.
Senior guard Maddie Warren scored 14 points on 63% shooting, including 4-of-5 from long distance, and also had six rebounds, three steals and four deflections.
Junior wing Jamisyn Heaton also netted 14 with a pair of treys and made three steals. Senior wing Brinly Whiting added seven points with three boards and three deflections.
"This was a good, tough region game for us," said Pioneer Coach Sean Seastrand. "Mountain View is pretty good and was really patient executing on offense.
"Our defense played well except for during a run that Mountain View made in the second quarter," the coach continued. "We were able to pull away and keep the lead enough for a 19-point win.
"It was fun. I went to Mountain View so that's always a game I look forward to," he added.
Lehi 49, Alta 25
The story was similar against the Hawks. The Pioneers surged ahead 16-5 in the first period and only allowed Alta a single basket in the second quarter as they scored often in transition. Lehi led 27-7 at the break and the host school never recovered.
The Pioneers had nine players score in this contest, led by senior guard Macie Warren with 11 points plus five rebounds, three assists and three steals. Maddie Warren contributed 10 points with six boards, four assists and a pair of steals.
Heaton had eight points with three rebounds and four assists, and Whiting pulled in five boards.
"We really challenged our girls to be locked in on defense tonight," Seastrand said. "Brinlee Mcrae is averaging 22 points and I believe is one of the top individual scorers in 5A.
"Our girls responded and held Alta to seven points in the first half," he went on. "She's a great player and we held her to nine points through three quarters. By then we were up comfortably.
"It was another fun game on the road," he said. "We've got three more in a row on the road so we're trying to stay focused on getting road wins."