Lehi boys get payback over Bruins; Felt honored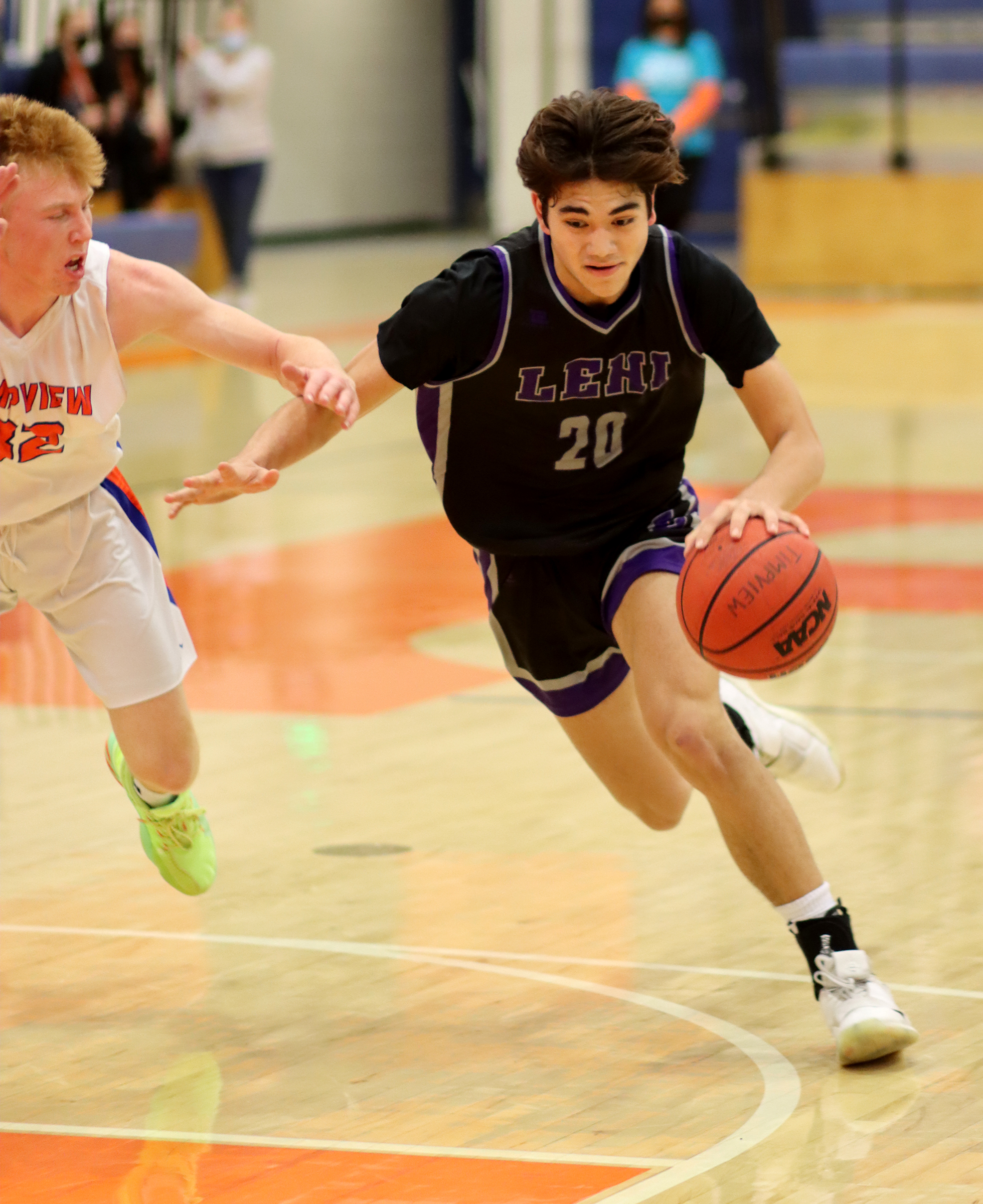 Beky Beaton | Lehi Free Press
The Lehi boys basketball team bowed to Region 7 champion Timpview on Feb. 9 and nearly suffered a second close loss to Mountain View on Feb. 12. However, the Pioneers made the right plays down the stretch in front of a small but lively student section to earn the victory on Senior Night.
Longtime Lehi educator Russ Felt passed away in October, and the school chose to honor his memory this evening. His widow Rita and a sizeable group of family members were on hand for a stirring halftime tribute to the former Lehi student, teacher, counselor and principal.
Timpview 73, Lehi 52
Lehi started strong in what figured to be a tough game and led 19-15 after the first quarter, but the Pioneers only scored two points in the second period and couldn't overcome that drought the rest of the evening.
Senior forward Peter Amakasu scored 20 with seven rebounds and a pair of steals. Senior guard Noa Gonsalves added 16 points and two steals.
"We had a tough game against Timpview," said Lehi Coach Quincy Lewis. "We just couldn't quite get in sync on the offensive end and they played a very good game."
Lehi 59, Mountain View 54
The Pioneers were engaged in a rugged, physical contest against the Bruins, and it stayed that way to the end. Both teams had multiple players in foul trouble by the half and two of Lehi's fouled out before the conclusion of the evening.
The Pioneers started the game hot as senior wing Blake Hill canned a pair of treys and Amakasu followed with two inside baskets to give the hosts a 10-0 advantage with just 2:15 ticked off on the clock.
However, Mountain View rallied and the score was tied at 13 at the end of the first quarter and the Bruins were up 30-26 at the break.
Lehi steadily worked its way through the third quarter, taking the lead back at the 3:06 mark on a pair of free throws from Gonsalves. The Pioneers led 48-42 entering the fourth quarter and remained ahead until the Bruins sank a trey with 1:45 to play to give themselves a one-point advantage.
Senior guard Tyson Hawkins answered the call with a 3-pointer of his own with 1:20 remaining. Gonsalves, Amakasu and Hawkins were each intentionally fouled after that and went to the line for a 1-and-1. Together they made six straight free throws to close out a triumphant victory.
"I thought we played excellent defense and it kept us in the game," Lewis said. "Peter and Blake had really solid offensive nights.
"Tyson made a huge 3 down the stretch after losing the ball and showed great toughness," Lewis said. "Tyler Trane had five offensive rebounds and nine overall and played a great defensive game on a big strong kid."
The coach also noted that having students there made it fun for the players. The number allowed to attend is still quite limited, but their enthusiasm filled the gym and made it feel more like a normal game in this unique season.
Lehi's offensive balance made it challenging for the visitors defensively. Gonsalves finished with 15 points, including a dunk off a fast break that brought the roaring crowd to its feet. He also had four assists, six steals and two blocks.
Hill dropped in four from long distance among his 15 points and also collected seven rebounds. Amakasu added 13 points with three boards and Hawkins netted 12 with four rebounds and seven assists.