Area hoops teams advance to quarterfinals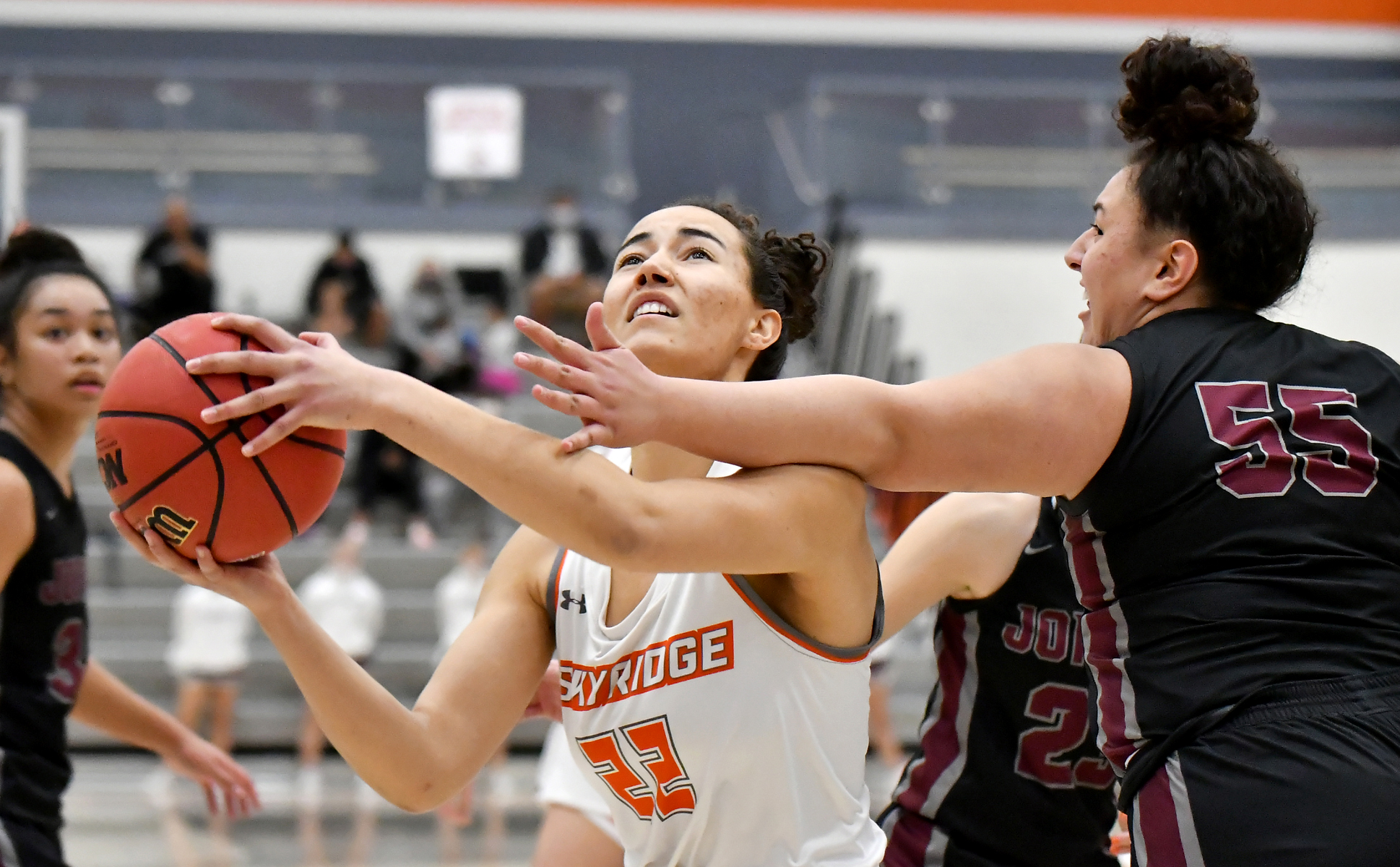 The four Lehi-area big school basketball teams all won their second-round contests at home Thursday and Friday and advance in their respective tournaments to the quarterfinal rounds, to be played Tuesday for 6A and Wednesday for 5A. Here's a summary of what happened and what's next.
GIRLS
Skyridge 55, Jordan 30
The No. 7 Falcons (13-7) used a 16-point advantage in the fourth quarter to retire visiting No. 10 Jordan (12-9) from the tournament on Feb. 25. Eleven players had at least one basket for the victors. They will be heading to No. 2 Fremont (23-0) for the quarterfinal on Tuesday, March 2 at 7 p.m.
Lehi 69, Bonneville 24
The No. 2 Lehi girls (19-3) overwhelmed visiting No. 18 Bonneville (7-11) with a hail of long-range bombs. Six players combined for 13 triples to help lift the home squad to a big win.
The Pioneers are in the rare position of having both teams qualify to advance with home court privileges in the third round by virtue of their earned high seeds. Accordingly, Lehi will host a double-header on Wednesday, March 3. The girls will take on a familiar Region 7 foe, No. 7 Timpview (17-6), at 4 or 4:30 p.m.
BOYS
Skyridge 83, Syracuse 58
The No. 6 Falcon boys (15-8) rode a hot start and a confident finish to victory over No. 22 Syracuse (7-17) on Friday, Feb. 26, at home. Four of the five starters scored 15 points or more.
All six Region 4 teams remain in the tournament, so they start playing one another again in the quarterfinal round. Skyridge will be at No. 3 Corner Canon (17-7) for a 7 p.m. tipoff on Tuesday, March 2.
Lehi 69, Viewmont 44
No. 3 Lehi (14-8) used a strong second-half surge to defeat No. 14 Viewmont (13-12) in an energetic gym. The ball movement was exceptional as there was an assist on nearly every basket.
The Pioneers will close the home hoops double-header at 7 p.m. by taking on No. 11 Bonneville (14-7), an upset winner over Timpanogos on Friday.
Check back later for the full stories and photos from each contest.