Skyridge girls advance with tough defense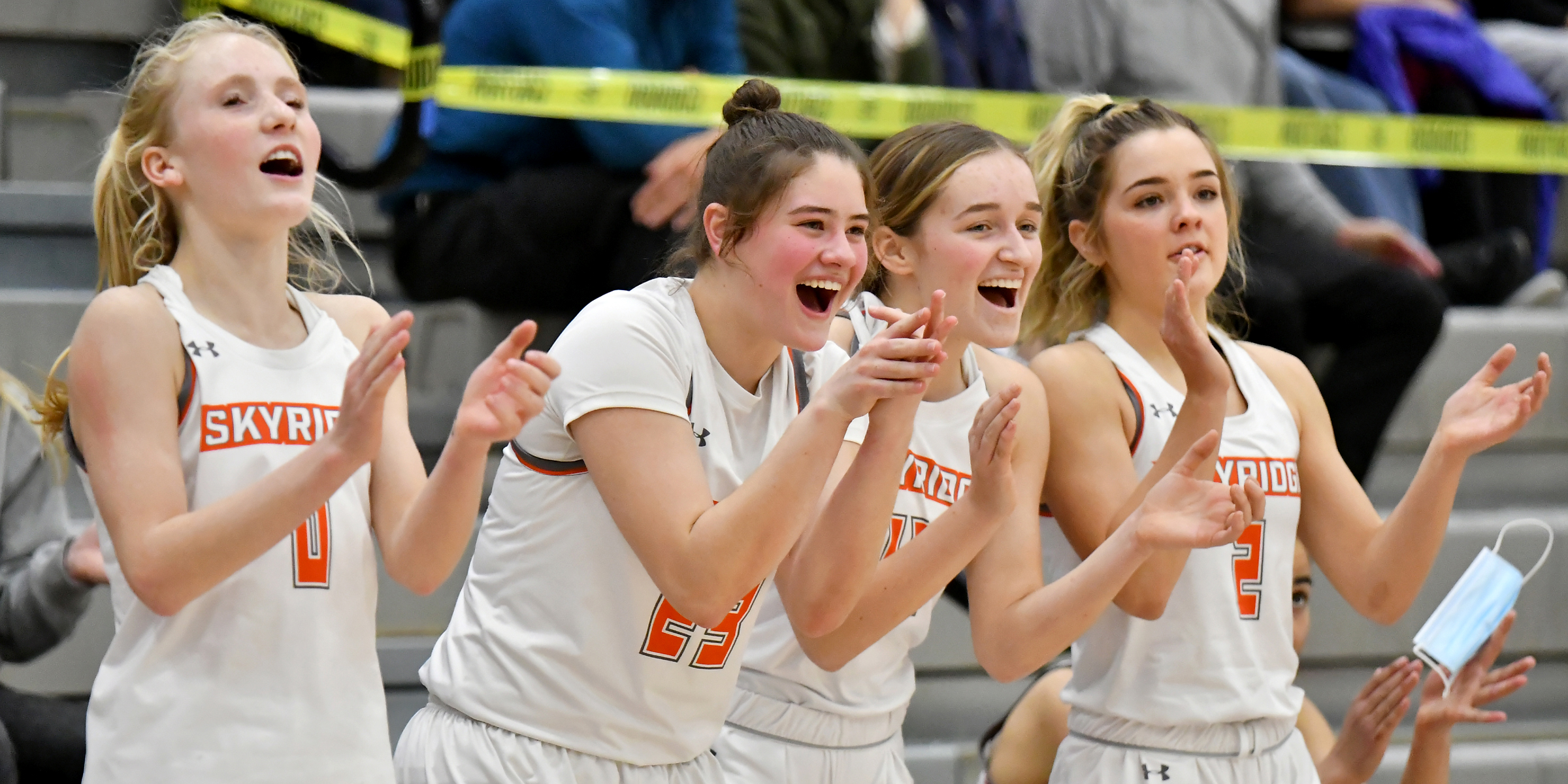 The No. 7 Falcon girls basketball team defended well and outscored No. 10 Jordan 20-4 in the fourth quarter to earn a 55-30 victory on Feb. 25. Skyridge had a bye in the first round, so this was officially a second-round contest even though it was their first state tournament game.
Six points from freshman guard Cambree Blackham and a trey apiece from senior guards Taylor Arnell and Jade Wallace helped spur the home team to an 18-12 advantage at the end of the first quarter.
Both teams struggled to find the net in the second period. The Falcons managed just one field goal in that stretch, from junior center Kjirsten Gotberg, plus a free throw. However, they only gave up four points as well, so they were still ahead 21-16 at the half.
The pace picked up for both sides in the third quarter. A second 3-pointer from Wallace and six points altogether helped spark Skyridge to build a 35-26 margin heading into the final stanza.
Nine players scored at least one basket each in the fourth period as the Falcons finished off the Beetdiggers with a 20-4 run to make a challenging game look like an easy win.
As a team, Skyridge had 16 steals, 19 deflections and two blocks, attesting to the superlative defense which factored into the result of this game.
Cambree Blackham led all scorers with 13 points and also had six rebounds, five assists, three steals and seven deflections. Her older sister, senior guard Ally Blackham, netted 10 points with six boards, four assists, six steals and eight deflections.
Wallace finished with nine points, three rebounds and three steals. Arnell added seven points, two boards, two assists and two deflections. Junior guard Teagan Gray also had three steals.
Eleven players scored in this game. In addition to those already mentioned, the Falcons got baskets from seniors Kyla Toole and Mia Widdowson, junior Eve Schmalbeck, sophomore Donya Perkins and freshman Shae Toole.
"I loved our defensive effort, and it is what gave us the separation in the end," said Skyridge Coach Shaylee Nielsen. "We talked about being resilient and wearing Jordan out and I feel like we were able to do that.
"We had a hard time with their No. 33 and didn't have an answer for her at first and for a while in the third quarter," she continued. Beetdigger Ongolea Afu scored 18 points, more than half her team's total, but didn't get a single one in the fourth quarter.
"We switched to a man defense and gave Taylor Arnell the assignment to stop her and she did a great job," Nielsen said.
"We really saw the value of Ally Blackham in the back of our zone tonight," the coach went on. "In the first five minutes they couldn't get the ball past half court and we were rolling."
At that point, Ally rolled her ankle and had to leave the court to get taped. "I think they scored six or eight straight points with her out," the coach said. "Ally does so much for us defensively and we are so fortunate to have her leading us on both ends of the floor. She's just such a presence.
"Jade Wallace and Cambree Blackham were big sparks for us offensively," Nielsen said. "Jade had a big and-1 layup in the fourth quarter when we were only up by four and it was a huge momentum shift. Cambree did a great job of attacking gaps against their zone and making things happen."
The Falcons now face the formidable task of taking on undefeated No. 2 Fremont on Tuesday, March 2 at 7 p.m.
"In the state tournament it's all about surviving and advancing," Nielsen said. "You're always excited to get to play another day. We have big goals for this season and we're not ready to go home yet.
"We know we have a huge task ahead of us at Fremont next week. No one has been able to really even compete with them this year, so we just need to keep the game close and see what happens," the coach concluded.