Pioneer girls dominate Lakers to advance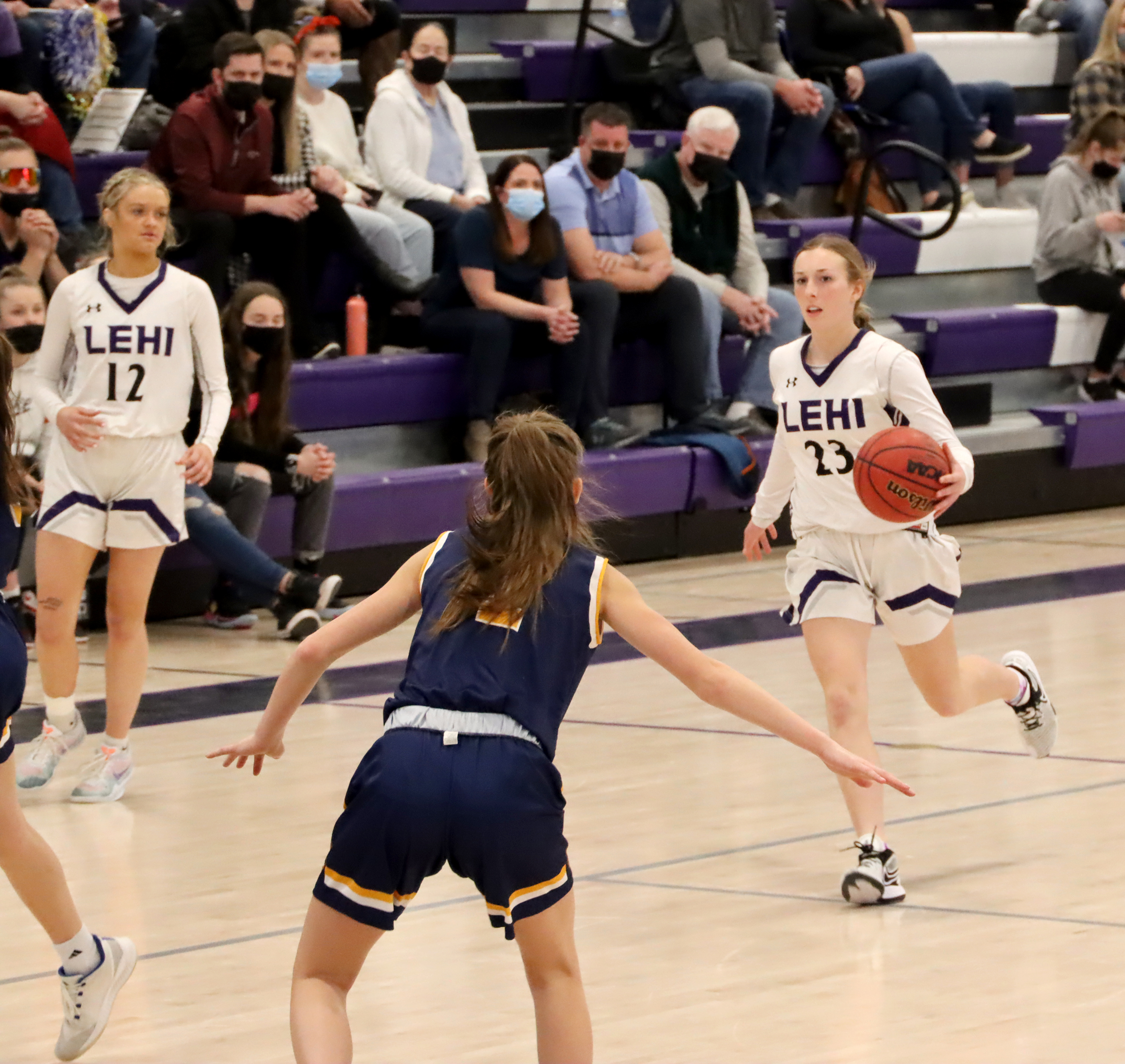 The Lehi girls basketball team took command of their Round 2 contest from the opening tipoff, scorching the nets for 13 treys on the way to an overpowering 69-24 victory over Bonneville on Feb. 25.
The No. 18 Lakers had upset No. 15 Wasatch on the road two nights earlier to earn the right to play the No. 2 Pioneers, but they couldn't find any way to slow down the runaway locomotive that is Lehi's offense nor make much headway against the stifling defense.
Junior wing Jamisyn Heaton got her monster night started by winning the tipoff, and later converted the possession with a layup after taking a dish from senior guard Lizzy Rees.
At the other end, senior guard Macie Warren ended Bonneville's first possession with a steal, and Heaton got a rebound and put-back score to finish off that play.
After the Lakers hit a couple of free throws, senior guard Maddie Warren answered with the first of five triples she canned in the game out of seven attempts (71%).
When she hit the second one, the score was already 11-5 just four minutes into the game. Lehi posted seven straight points to finish off the period up 18-5.
In just the second quarter, Heaton netted 10 points along with making three rebounds and a blocked shot to help lift the home squad to a 38-9 advantage at the break.
The Lakers managed to score in the double digits with 10 points in the third, but the Pioneers got 18 to further extend their lead. The starters were all on the bench during most of the final period.
Heaton shot 8-of-9 (89%) from the field and was a perfect 3-for-3 from distance. She finished with 19 points, seven boards and two blocks in three quarters.
Maddie Warren scored 17 points to go with four rebounds and four assists. Macie Warren added 12 points with seven boards, six assists and a pair of steals. Rees had six points and three assists, while junior wing Brinly Whiting contributed five points and five rebounds.
"Even though it was the second round for Bonneville, it was our first playoff game," said Lehi Coach Sean Seastrand. "There's always a bit of extra excitement that comes from that, so I was curious to see how we'd come out.
"It seemed like we had a little extra energy in warmups and pregame," he said. "It turned out just great though as we came out really sharp.
"I think most people would focus on the shooting tonight," the coach continued. "We shot really great from 3 (50%), but I'm most proud of our defense. We held them in single digits for three of the four quarters.
"That's a good shooting team too," he said. "We just didn't give them any open looks all night. That's what we challenged our girls to do."
Since both Lehi teams won and are the higher seeds, the Pioneers will host a double-header for the quarterfinals on Wednesday, March 3. The girls (19-3) will take on a familiar opponent in No. 7 Timpview (17-6) at 4 or 4:30 p.m. Lehi won both earlier meetings this season.
"It feels good to get the first win under our belts and to prepare for the quarterfinal now against Timpview," Seastrand concluded.