Pioneer boys oust Vikes with strong second half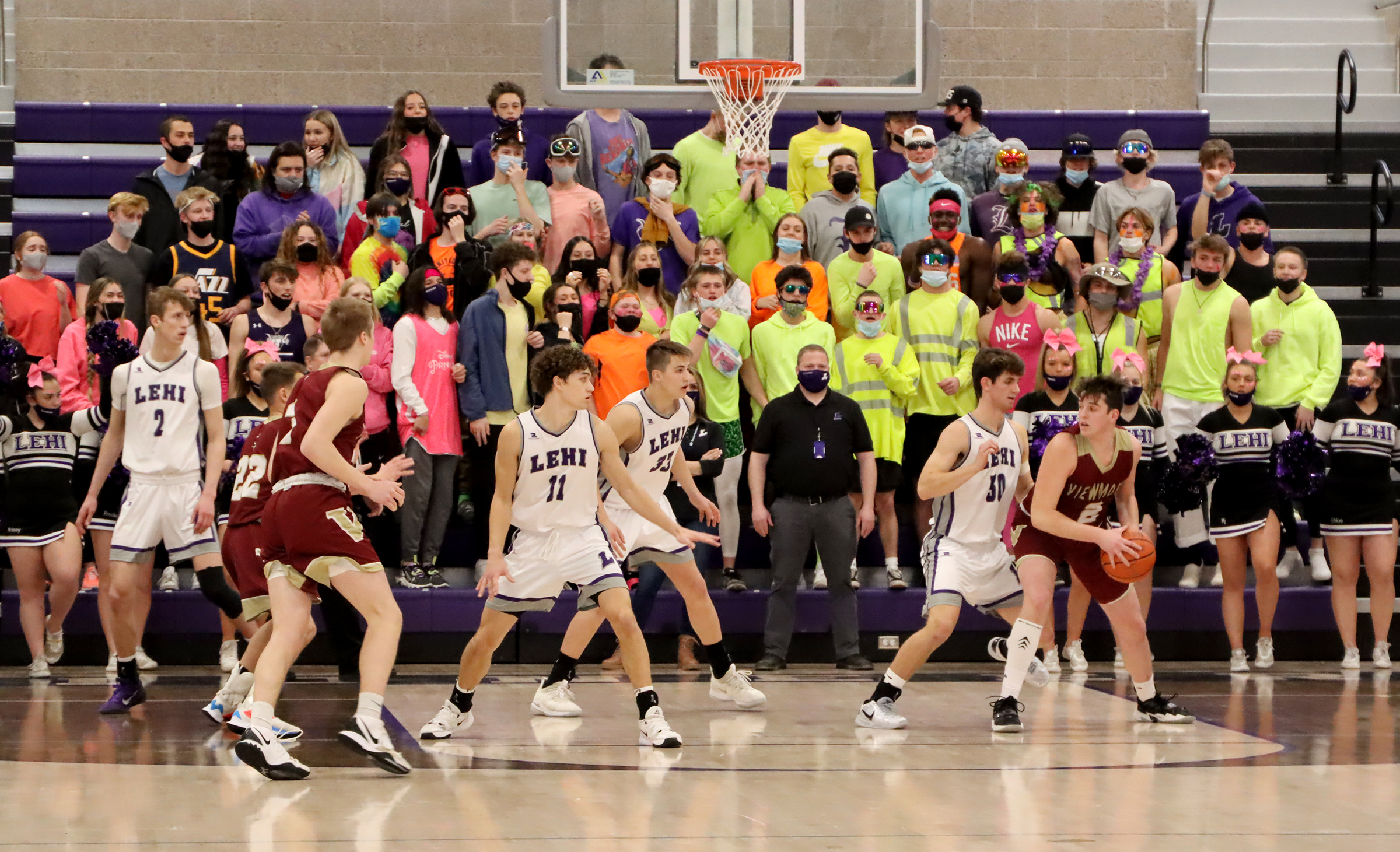 After bye in the first round, the No. 3 Lehi boys basketball squad played a masterful team game in their second-round tournament contest on Feb. 26, pulling away from No. 14 Viewmont with a steady effort to fashion a 69-44 victory.
The Pioneers won the opening tip and freshman center Grayson Brousseau cashed it in with a turnaround jumper to start a good outing for him.
Perhaps due to a little extra juice from anticipating the opening of the team's tournament season, Lehi missed five of their next six shots. However, the players didn't panic, and they also didn't give up anything on the other end.
After that dry spell, the Pioneers sank three triples in a row at the hands of senior guard Noa Gonsalves, senior wing Blake Hill and senior forward Peter Amakasu. They led 15-9 at the end of the first quarter. The teams dueled even through the second period and Lehi led 33-27 at the break.
Early in the third quarter, Hill made a steal and fed it to senior guard Tyson Hawkins for a fast-break layup. Hill went on to sink a long jumper and two more treys to help lift the home squad to a 48-34 advantage at the end of the period.
At the start of the fourth, Hawkins lobbed an in-bounds pass to Amakasu for a thundering hammer dunk that brought roars from the crowd and the Pioneers cruised to the finish line from there with solid defense and continued efficient offense.
The team shot 57 percent for the game with nine triples and made an assist for almost every basket. They outrebounded the Vikings 26-19, made nine steals and only turned the ball over four times.
Gonsalves went about his usual business as the quiet assassin. He completed 67 percent of his attempts from the field and was perfect at the line. He posted 18 points with four treys and added four boards, five assists, three steals and a block.
Amakasu nearly had a double-double with 17 points and nine rebounds. He also had three assists and a block. Hill finished with 16 points, four assists and two steals. Hawkins scored seven with a program record-tying 10 assists plus a block.
Brousseau was a perfect 4-for-4 from the field to go with three boards and three assists. He set screens very effectively throughout the contest, creating space for his teammates to hit several of those long bombs.
"Overall, it was a great team effort against a good, solid team," said Lehi Coach Quincy Lewis. "I thought Grayson gave us a real shot in the arm. Blake and Peter gave us effective all-around games. We shared the ball really well, especially Tyson with his 10 assists and just one turnover."
No. 11 Bonneville (14-7) upset No. 6 Timpanogos to advance to face the Pioneers in the second game of the Lehi quarterfinal double-header on Wednesday, March 4 at 7 p.m.
"Bonneville is a tough, scrappy team," Lewis said. "They obviously showed that with the good win at Timpanogos, but we'll be ready."