Skyridge football routs Lone Peak for Homecoming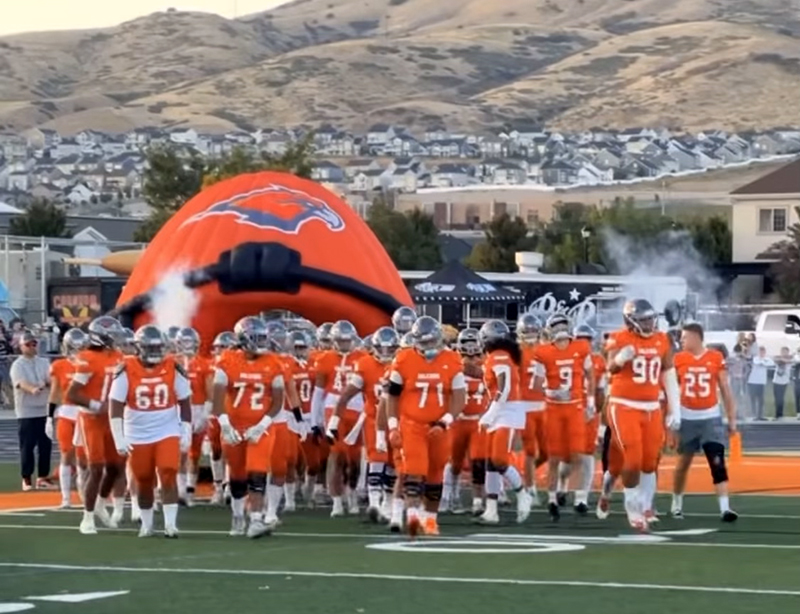 In a battle of Region 3 rivals, Skyridge made a statement for Homecoming with a 41-15 beatdown of the Lone Peak Knights.
The Falcon offense hit the field running, scoring first when senior running back Carter Sheffield took a perfectly executed screen pass 14 yards into the endzone. The PAT was unsuccessful.
Senior receiver Jack Burke consistently found holes in the Lone Peak secondary, making several crucial catches and scoring two touchdowns. Shefffield rushed for 69 yards and had 24 yards receiving, scoring one touchdown each way for the Falcons and thus proving himself the bell cow of the offense.
Senior receiver Trent Call topped off the scoring with two touchdowns of his own. Call's first electrifying score was a 48-yard bubble screen pass where he broke several tackles and dove into the endzone with assistance from fellow receiver Treven McClellan.
Senior quarterback Jackson Stevens completed 20-of-32 for 299 yards, five touchdowns and one interception. Call had five receptions for 113 yards while Burke pulled in 11 throws for 146 yards.
Skyridge Head Coach Justin Hemm said, "The last few weeks Burke has had some great games. We feel we have guys all over on the outside and each game it can be somebody different.
"Burke stepped up and did well tonight. Trent Call also played well, he's a grinder and does a lot of things for us. He made some good plays tonight and so did Sheffield," he added.
The Falcon defense held the Knights scoreless for the first half with an ending tally of 34-0. The Falcon defense forced turnovers and pressured the Knight's quarterback.
Junior defensive lineman Iakopo Malufau registered three sacks and three hurries in penetrating Lone Peak's much-heralded offensive line. Senior linebacker Jackson Fenton had a sack and 2.5 tackles for loss among his six combined to lead the defensive numbers.
Defensive backs junior Tavian Edwards and senior Mark Baird both picked the Knights' quarterback, energizing the Falcon defensive play.
"Defense did a great job tonight. They made things difficult and made the throws challenging and kept them in third and long. It was an overall great team performance," said Hemm.
Edwards said, "I am so excited about this game. I got a pick and had help from Iakopo leading me down the field. I love this team so much, it was a great effort tonight and this win feels good."
All three phases of the game, offense, defense and special teams,appeared to be a step ahead of the Knights throughout the contest. Junior kicker Blake Hester successfully converted four out of five PATS with junior kicker Foxton Dovey making the other PAT for the night.
Burke said, "We schemed really well this week, we were prepared and knew what they were going to be in. We moved the ball super well and the O-line dominated tonight, overall it was a good team performance."
"We knew it was going to be a big week coming in, it started with a week of hard work and preparation. We started off the game a little slow, but we settled in quick and were able to execute at a high level," Hemm concluded.
With the Homecoming victory, the Falcons remain undefeated at 8-0 and have won 15 straight games dating back to last season. The Falcons will defend their win streak on Friday (Oct. 6) at home as they take on the Pleasant Grove Vikings (7-1). Kickoff is scheduled for 7 p.m.