Falcon football suffers first loss to Vikings in OT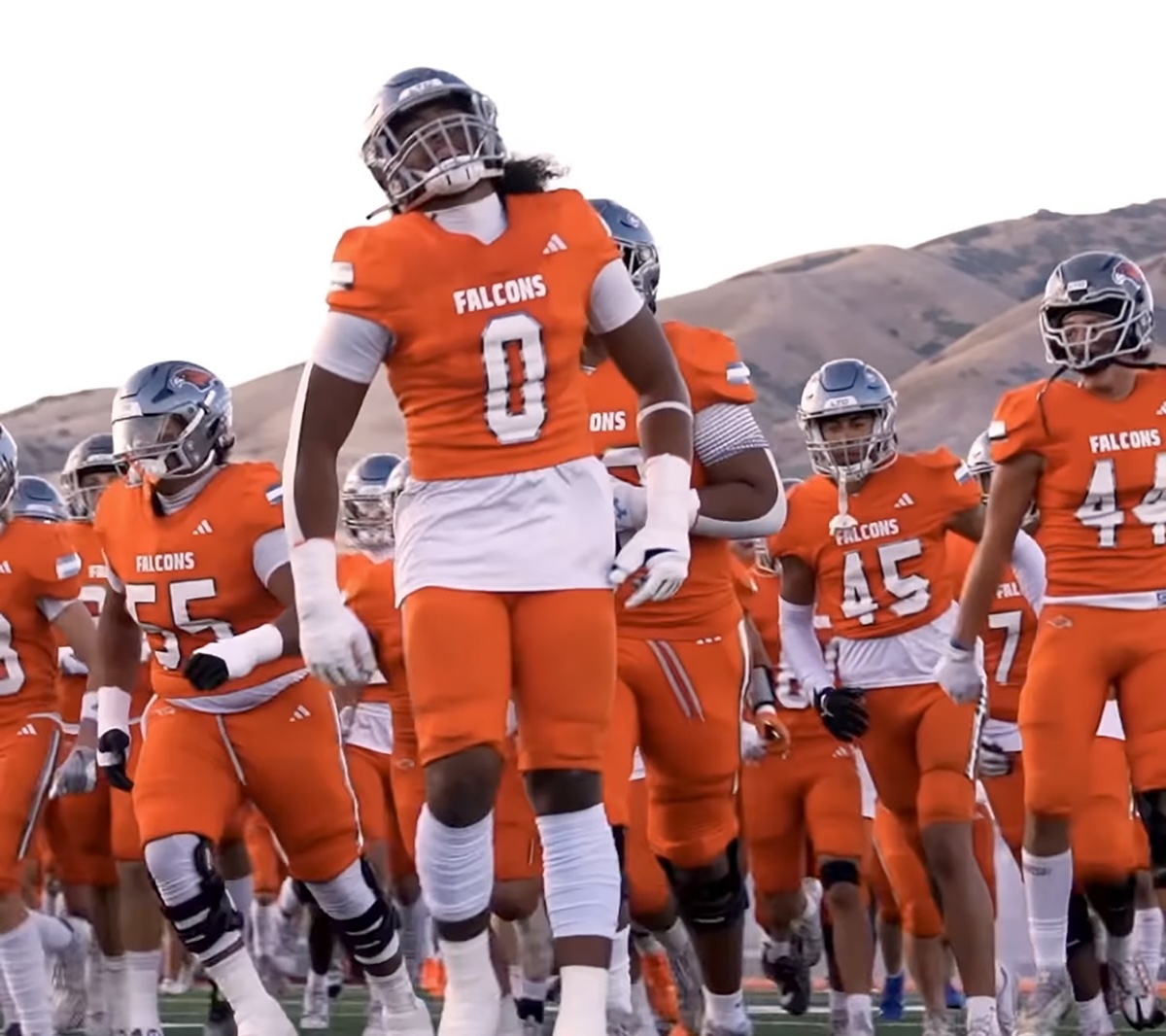 In a hard-fought, back-and-forth battle that included several controversial calls from the officials, the Skyridge football team came up short in overtime against the visiting Vikings from Pleasant Grove.
The Vikings came out fearlessly and put points on the board first. The Falcons quickly answered when senior quarterback Jackson Stevens threw a 75-yard strike to senior receiver Trent Call after scrambling out of the pocket to avoid the relentless Viking pass rush.
The Falcons ended the first quarter with a 6-7 score after the PAT failed.
Stevens connected with senior receiver Trevan McClellan for a 6-yard touchdown in the second quarter. Junior kicker Foxton Dovey completed the PAT and put the Falcons in front with a 13-7 halftime lead. Junior running back Zaden Selu scored with a 10-yard run into the endzone during the third quarter.
The final points of regulation time for Skyridge were scored by Trevan McClellan on a 28-yard catch and run. Buhler ran in a 2-point conversion to make up for the earlier missed kick.
The Skyridge offense was hampered by an injury to starting running back Carter Sheffield early in the game. Reserve running backs Brett Buhler (sr.) and Selu helped steady the Falcons rushing attack, filling in for the injured Sheffield.
The Falcon defense dominated during the second and third quarters, holding the Vikings scoreless. The Skyridge defensive front led by junior linebacker Deshawn Toilolo, junior Iakopo Malufau and senior linebacker Jackson Fenton registered 11 sacks, several tackles for loss and kept pressure on the Viking quarterback all night.
Pleasant Grove entered the fourth quarter trailing 7-20 but exploded for three touchdowns in the final eight minutes to force the Falcons into overtime.
"Defense played hard. We had some miscommunication at times but overall, they played hard," said Skyridge head Coach Justin Hemm. "They got after it and did what they needed to do. They kept us in position when offense was struggling and kept the game where it needed to be."
The Falcons went first in overtime, but were forced to settle for a Dovey 31-yard field goal. The Vikings scored a touchdown after a delayed personal foul was called against the Falcons, which put the ball on the 12-yard line.
Viking quarterback Carson Rasmussen scored a touchdown with a pass to Bronco Winterton to seal the victory for the Vikings.
"This was a tough game. I thought we did some things well but obviously we made a few too many mistakes and PG came out with a lot of intensity and executed at a high level," said Hemm.
"PG made some things difficult for us. There were times when we could have made some plays but there were also times when they made some great plays," added Hemm. "We need to execute more often. We left some plays out there, had some drops and misreads one too many times tonight."
Buhler said, "This was a hard loss tonight. We battled and gave a full team effort. We played well but we need to come together and trust each other more. I know we can work hard and prepare to come back next week and play our best."
The loss creates a three-way tie for the Region 3 title between these two teams plus American Fork, each of them with a 3-1 league record and 8-1 overall. The Falcons finish the regular season at American Fork on Friday, October 13 at 7 p.m.