Sculptor with Lehi Roots Creates Ute Monument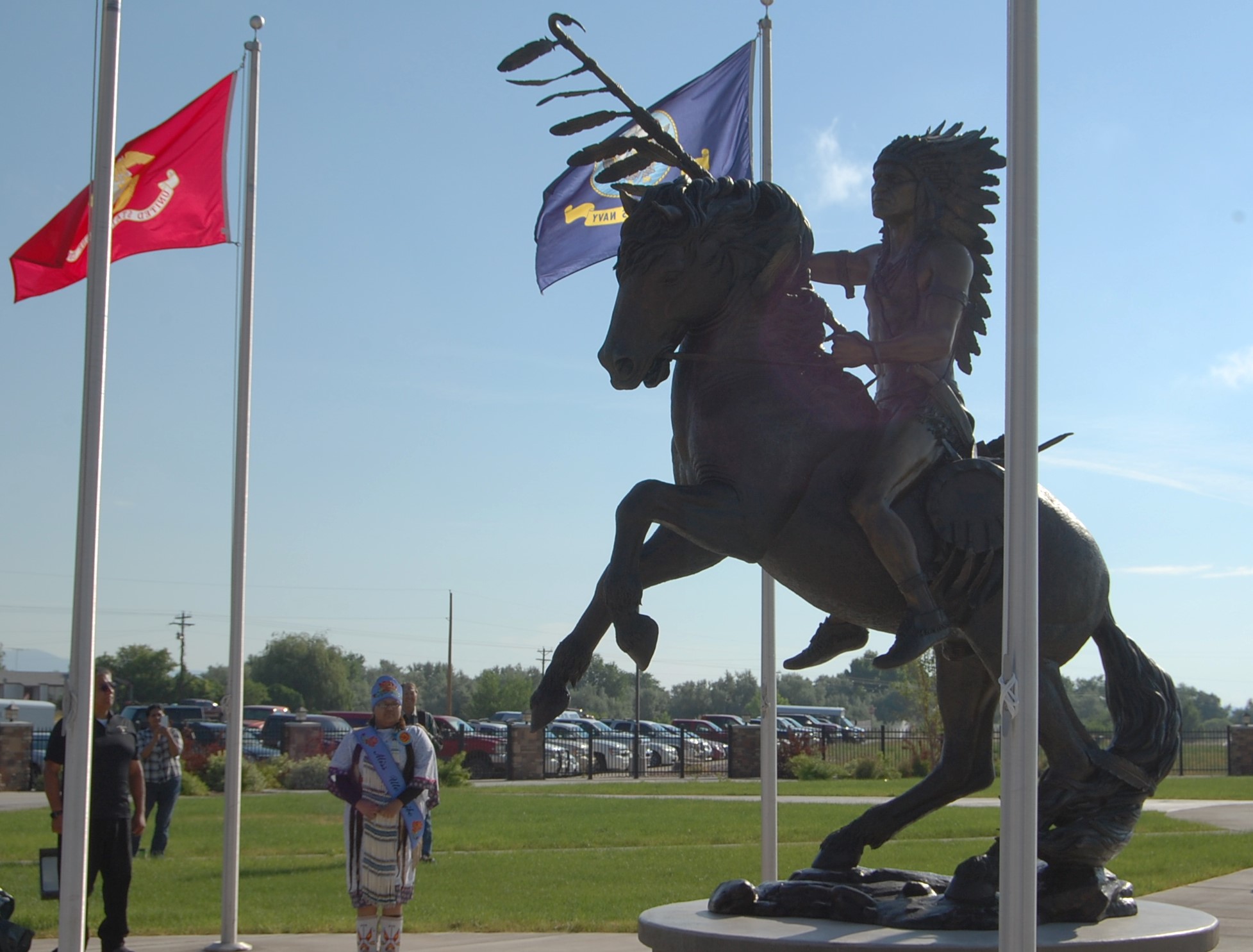 FORT DUCHESNE, UT—Nearly five years after the Ute Tribe extended an invitation to create the sculpture, artist and Lehi native Jerime Hooley's 13-foot bronze piece finally came to life. The sculpture, "Ute Warrior Chief" was unveiled at a ceremony held on July 2, 2016 in Fort Duchesne. Now a major feature of the Fort Duchesne Ute Indian Tribe Veteran Memorial Park, Hooley's sculpture demonstrates how patience and hard work can result in a work of art that will last for generations.  "The tribe wanted to start with its most ancient Veterans, going back to a Ute warrior chief," said Hooley. The unveiling was one of many future art pieces to be commissioned to honor additional Veterans at the memorial, he added.
Hooley explained that years ago, the Ute Tribal Elder Bob Chapoose travelled the nation's Veteran monuments to find the right artist for his vision. After seeing Hooley's Korean War Veteran art in Cedar City, Chapoose knew the long-time Lehi High School art teacher could capture his vision of honoring the tribe.
According to www.ubmedia.biz, Chapoose said, "My grandfather and all the old Indian people used to tell me about these warriors—what they did. It (the memorial park) connects my life back to them."
According to Hooley, "The whole idea of art is to help us understand the human condition. It's a fun thing for me to honor those who have served us."
Both videos and photos of Hooley's artwork can be seen online via his Facebook page. Lehi art fans can simply type "Jerime Hooley" into the Facebook search bar to see "Ute Warrior Chief" evolve from concept to reality.