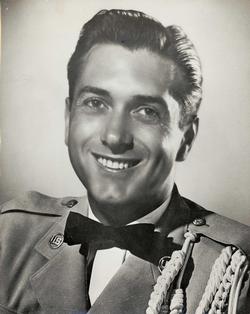 Howard Joseph Ruff, 85, born Dec. 27, 1930, died on Nov. 12, 2016 in Lehi surrounded by his beloved family. He was an author, publisher, financial advisor, and radio/television personality. Howard and his wife Kay had 14 children, 79 grandchildren, and 48 great-grandchildren. He had a big heart and was "Dad" to many more than his own. Howard was born in Berkeley, California to Rex Wilson Ruff and Rena Mayberry Braley and had one brother, James Wilson Ruff (Jim). Howard was raised by his widowed mother after his father died tragically when he was 4 months old.
Howard was a member of the Church of Jesus Christ of Latter-day Saints and served a mission in the Eastern United States. He married Kay Felt on April 18, 1955 in the Salt Lake Temple. He was a soloist and announcer with the Singing Sergeants of the Air Force Band. He directed and participated in hundreds of Gilbert and Sullivan performances, directed Handel's Messiah, and even recorded his own album. He also was a guest soloist with the Mormon Tabernacle Choir.
Howard was an entrepreneur and founded several successful companies. His financial newsletter, The Ruff Times, had hundreds of thousands of subscribers. His best-selling book, How to Prosper During the Coming Bad Years, was a New York Times Best-Seller. He loved writing, speaking, traveling the world with Kay, fishing, Lake Powell, and had a big soft spot for animals.
Howard Ruff is preceded in death by his father, Rex Wilson Ruff; his mother, Rena Braley Ruff; his brother James Ruff; and his son, Ivan Joseph Ruff. He is survived by his wife, Kay Felt Ruff, and his children Larry (Jennifer) Ruff, Eric (Janine) Ruff, David (Deon) Ruff, Pamela (Rick) Patterson, Sharon (Greg) Slater, Patty (Andy) Simpson, Anthony (Kellie) Ramon, David (Cathi) Steinberg, Liza (Doug) Spencer, Timothy (Brooke) Ruff, Debbie (Lars) Rasmussen, Megan Ruff, and Terri Lynn (Kaleigh) Bond.
Viewing: Sunday, November 20, 2016, 6-8 pm (Wing Mortuary, 118 E. Main St., Lehi. Funeral: Monday, November 21, viewing from 9-10:45 am, Funeral at 11 am (LDS Stake Center, 825 E. 500 N., American Fork, Utah) In lieu of flowers Kay has asked that donations be made to Family Watch International through his legacy website.