Elizabeth (Betty) Logsdon Blamires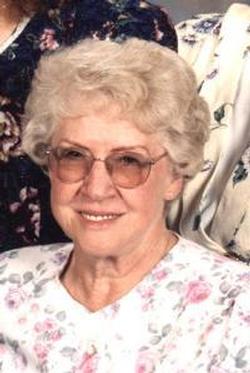 Elizabeth (Betty) Logsdon Blamires, 91, died December 13, 2016 in Salt Lake City, Utah. She was born July 15, 1925 in Lehi, Utah to LeRoy Clyde Logsdon and Eliza Crabb Fyffe. She married Vernon Lambert Blamires on June 19, 1926 in the Salt Lake Temple.
She attended Brigham Young University prior to her marriage. After the birth of three daughters, she started work for General Refractories Company in Lehi, Utah and worked for them until 1988, retiring as the office manager. She was a talented violinist playing in the BYU Symphony Orchestra, The Utah Valley Symphony and in other groups.
She is survived by two daughters, Larraine Blamires and Charlene (James E) Thomson; two grandsons, Chad David Moon and Sean Lambert Moon; one granddaughter, Aarika (William Chemema) Moon; three great-granddaughters Lea Ann Moon, Melanie Marie Moon, and Annie Kit Moon; two great grandsons Jerek Hyrum Moon and Ammon Hitoshi Moon.
She is preceded in death by her husband, Vernon, her daughter Ann (Leland) Moon, and a granddaughter Melanie Moon.
A viewing will be held at Wing Mortuary, 118 East Main, Lehi, on Friday, December 23, 2016 from 10:30-11:30 a.m., followed by a graveside service at 11:30 a.m. at Wing Mortuary, followed by the dedication of the grave at Lehi Cemetery.
In lieu of flowers please donate to the LDS Church Perpetual Education Fund or a charity of your choice. The family would like to express a special thanks to the dedicated workers at Brighton Hospice and Millcreek Pacifica for the wonderful care they gave Betty.