Seniors play hoops for sixty uears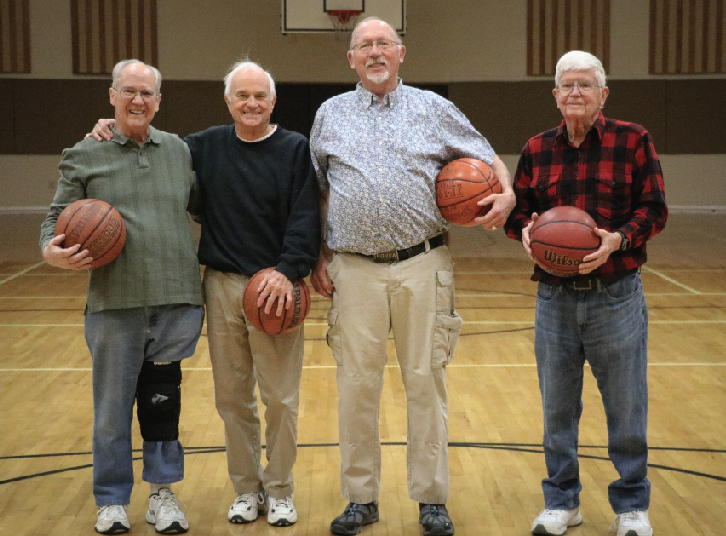 "Did you see that last second Westbrook shot? I thought they had the game won with the three pointer of Hayward's." Jazz basketball is the common theme every Tuesday as four friends meet at a Lehi church to play basketball. Reid Greenwood, Reed Wade, Jim Buckwalter, and Arlan Greening have been meeting to play ball for sixty years.
All of them are eighty or will be eighty soon. Some wear back support or knee braces. Some need to sit a spell after a minute or two on the court, but they all have one thing in common, they enjoy each other and find support and camaraderie after being friends for almost six decades.
Greenwood, Buckwalter, and Greening are originally from American Fork and graduated within a year or two of each other. Wade is from Fillmore and graduated from Millard High School. Greenwood and Wade met each other as missionary companions in the Western States Mission. They were companions for six months and spent some harrowing times together as they traveled from Albuquerque, New Mexico to Pueblo Colorado.
All four went to Brigham Young University. They played pick-up basketball games at the old George Albert Smith Fieldhouse. Their passion for the game and their enjoyment of each other's company began in the early sixties.
Greenwood worked for Blue Cross Blue Shield Insurance Company, Wade was an elementary school teacher, Buckwalter and Greening worked at Hercules until the facility shut down. In spite of their different career paths, they continued to meet each week to play ball and build ever stronger relationships.
Together with their wives, they have taken cruises together, traveled to Alaska, and each year for the last fifteen years, have gone to the West Coast Conference basketball championships in Las Vegas. They call themselves the "Over the Hill Gang." Once when cornered at a tournament game, the game announcer asked what they were doing there, Wade replied, "Drinking Geritol," This quip received national attention.
Wade lives in Lehi, Greenwood lives in Cottonwood Heights, Buckwalter lives in Holladay and Greening lives in Orem. Combined they have 70 grandchildren.
"Watch Greenwood hit a three-pointer," called out Wade, and just like that he swished the net. Age changes a few things like the ability to run up and down the floor with speed and agility, steal an errant pass, or dunk a basketball, but one thing never changes–their great friendships that are forged over time.