Longtime Lehi sweethearts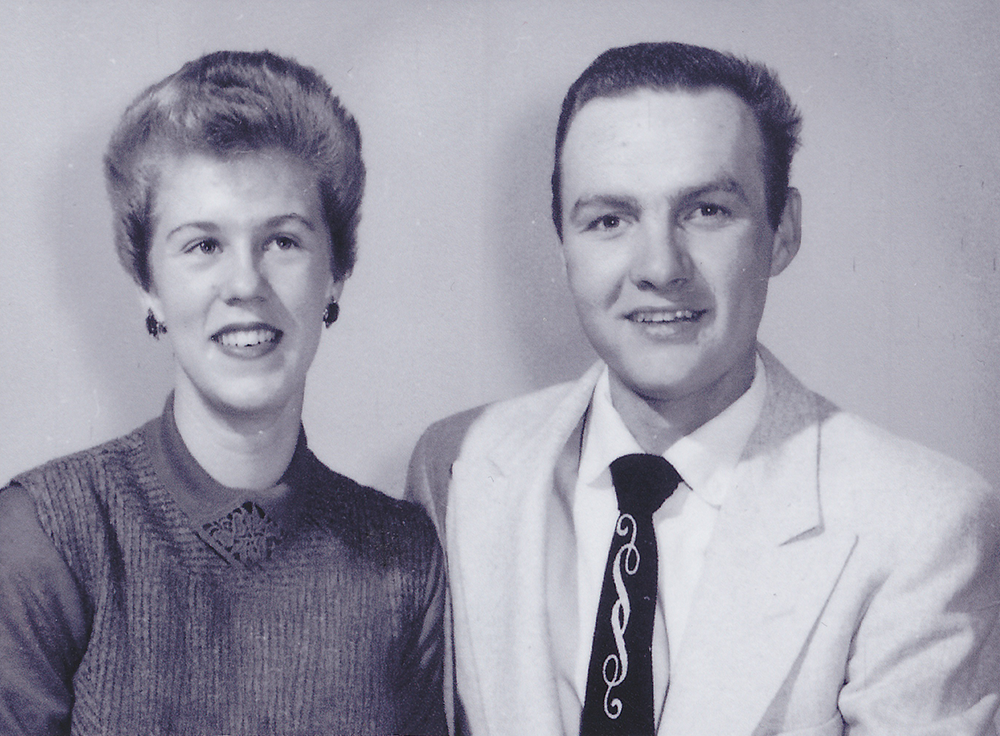 Romeo and Juliet, Roy Rogers and Dale Evans, Tim McGraw, and Faith Hill—we've all heard about these iconic relationships, but Lehi has their own couples whose love has survived the test of time.
Joe and Penny Adamson
Penny and Joe Adamson were married on Valentine's Day 1963. They held their wedding reception in the then, new Hutchings Museum (now the Lehi City Arts Building). This has been the only wedding reception held in that building. Penny's father, Les, was on the committee spearheading the building of the new home of Hutchings Museum.
Joe and Penny built a home in Lehi and raised their five children, Angie, Jason, Jim, Greg, and Lee here. Joe is an avid hunter who spent much of his life in pursuit of deer and elk. Every fall there was a migration of his family to the hills of central Utah looking for the trophy buck or bull.
In 2004, Joe was diagnosed with Huntington's disease, a debilitating disease that effects the nervous system and renders the individual the inability to control movement. The disease can be managed by medication, but eventually causes victims to become unable to walk.
Several years ago, Joe wanted to go elk hunting. With a wheel chair, tent, and a week's worth of groceries, Penny packed up the truck and headed for Joe's favorite hunting spot. Penny and Joe spent the week looking for the big one, and, finally, Joe shot a trophy bull elk. The cape and head were mounted and for several years, had a prominent position on the Adamson living room wall. This hunting effort is called love and devotion.
Jeanne and Jon Fondell
In the winter of 1973, a fierce snowstorm forced the closure of a Canton, Ohio high school. On that wintery day, Jeanne Dennis and Jon Fondell didn't get the message and met at the front door of the high school. "It was love at first sight." stated Jon. Jeanne invited Jon to her home and fixed him hot chocolate. They were inseparable from that moment on.
After graduation, Jeanne headed to Colorado to attend college and Jon followed. They continued to date, but Jeanne's family was not happy about the relationship because Jeanne was from a staunch Catholic family and Jon was a Lutheran. The couple decided to explore different religions and both were introduced to the missionaries from The Church of Jesus Christ of Latter-day Saints. The couple joined the church and were married the next year in the Manti Temple. Jeanne's mother refused to come to the wedding.
Jon and Jeanne moved to Lehi and Jon started Fondell Woodworks. They had three children, Jonathan, Brandon, and Fionna. They were blissfully happy until six and half years ago. Jeanne was injured in a medical accident and was paralyzed from the neck down. She has spent the intervening years in a wheelchair, needing almost 24- hour care. Her daughter, Fionna and Jon became her caregivers. They have lovingly cared for her during this time. Jon's love was not diminished but enhanced by the tragedy of their circumstances. Jeanne passed away Saturday, February 4th surrounded by her loving family.
Maureen and Jerry Beck
When Maureen and Jerry Beck were married in 1953, they chronicled the event with a series of super-8 videos. The only other remembrance of the wedding day was a picture of Maureen in her wedding dress. The years went by and the videos of the wedding were lost. No one seemed to know where the videos had been stored.
Two years ago, while searching for something in the Beck home, James Klein, Maureen's son-in-law, found a box. When asked about the films in the box, Maureen said they belonged to her father. James took the films home, and looked at each one. To everyone's surprise and delight, they were the films of Maureen and Jerry's wedding. Prints were made of some of the frames and were given to Maureen as a Christmas gift. "This is the best gift I have ever received." Bert had passed away several years before that Christmas and the pictures were a special treasure for the entire family.
In this time, long-lasting relationships are rare. It is reassuring to know that there are still couples who have weathered the storms of married life and live to know the joy of patience, sacrifice, and unselfishness.