Former Lehi resident and Lone Peak grad seeks NBA draft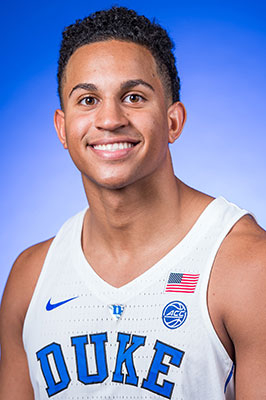 Frank Jackson is going to the NBA. After attending the annual NBA Draft Combine, Frank hired one of the top NBA agents, Bill Duffy. By retaining an agent, Jackson loses his amateur status and cannot play for Duke. Instead he will be looking for his name to be called in the NBA draft held on Thursday, June 22.
Frank Jackson's family lived in Lehi until it was clear that his basketball potential could earn him a college scholarship. Wanting to put their son with the best coaches and give him the opportunity to go to a top ranked college, his family moved to Alpine in order for him to attend Lone Peak High School. Jackson averaged 28 points per game while winning a state championship while at Lone Peak.
The former Lehi resident is a 6'3" combo guard, meaning he can play both point guard and shooting guard. Jackson was one of the top 35 players in the country coming out of high school. BYU offered Jackson a scholarship early, but eventually he had to de-commit from BYU. After re-opening his recruitment, he decided to attend Duke.
Jackson started the season at Duke off of the bench but eventually earned his way into the starting lineup. Jackson averaged 24.9 minutes a game and 10.9 points. He also played well in the NCAA tournament where he scored 14 in a win over Troy and 15 in a loss to South Carolina.
After the season, many NBA experts expected Jackson back for his sophomore season. NBADraft.net had Jackson listed as a late first round pick in the 2018 draft and did not have him listed as a 2017 draftee.
In the NBA Draft Combine, college players can declare for the NBA draft, but can remove their name after the Combine as long as they do not hire an agent. This lets college players get evaluated for their skills, interview with teams, have measurements taken on their body, and play 5-on-5 to see how they rank against other top college players. If a player attends and shows poorly, they might decide to go back to school and get another year of growth in order to enhance their draft stock. NBA and international scouts are in attendance as well, and players can gauge where they are likely to get drafted.
Many of the top players no longer attend the Combine because their value is already high; they do not want scouts to see anything that could be a red flag and hurt their value. The Combine has become a place for late first round and second round picks to increase their value, show off their skills, and impress teams.
Jackson made a case for the "Best Athlete" title and showed just how athletic he is. He finishing first in the shuttle run (2.7 seconds), ranking fifth in the three-quarter-court sprint (3.14 seconds), and second in the maximum vertical jump (42 inches).
After playing in a 5-on-5 game on the last day of the Combine, Jackson pulled his name before the second game after he had signed Bill Duffy to be his agent. ESPN's Chad Ford reported, "Several teams told me they believe Jackson has landed a promise from a team to draft him in the first round." Currently Jackson is listed as being taken #27 by the Brooklyn Nets by NBADraft.net and picked in the second round at #36 by the Boston Celtics by DraftExpress.com.
BYU's sophomore center Eric Mika was also in attendance at the Draft Combine. Both NBADraft.net and DraftExpress.com do not have Mika as a potential pick in the 2017 or 2018 draft, while ESPN has him listed as a late second round pick or undrafted and has him ranked as the 8th best center in the draft.
Because Mika has not hired an agent, he can rescind his name from the draft and return to BYU where he has two more years of eligibility. If Mika does decided to stay in the draft and is not chosen by an NBA team, he can sign with an international team or try to make an NBA summer league roster. Mika served an LDS mission in Italy and his ability to speak Italian could help him if he decides to play international basketball.