Quick and inexpensive ways to improve your home's curb appeal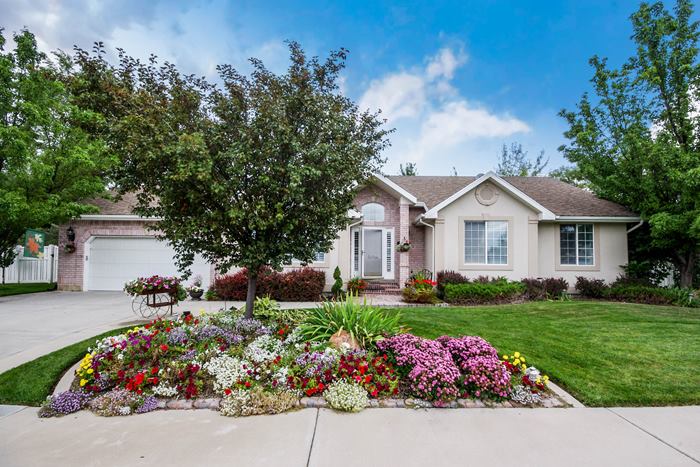 Your home's "curb appeal," or appearance from the street can add thousands to its value, regardless of whether you are planning to sell any time soon. There are dozens of small, inexpensive home improvement tasks that will dress up your home's exterior.
Here are nine to consider:
1. Flowers, flowers, and more flowers! Spruce up your curb appeal by adding flowers to front porch containers, window boxes and front flower beds. Even just adding a little bit of color attracts and pleases the eye. If the season isn't just right to find fully mature flowers at the store, try planting some fake ones. I know, I know…why plant plastic, fake ones?  I will tell you why… "plastic" has come a long way! They are very REAL looking these days, and most will never know the difference. There are a huge variety at Hobby Lobby or other craft stores. I promise you will be surprised at how "real" they look. They even have fake rose bushes with roots and thorns. Stick them into the flower bed and voila, instant color until the season is right or your other beauties grow in.
2. The Front Door: First impressions start at the front door. It's the first thing others see before knocking (they also look at it longer than anything else while waiting for you to answer!). Paint is an inexpensive way to spruce up that view. Make a statement by giving your front door a makeover by adding a blast of color or by installing a custom wood door trim. Painting the front door, trim and/or shutters is a great way to give your home a quick polished face lift.
3. Pressure Wash:  Pressure-washing the dirty siding, concrete driveway or deck is an extremely cost-efficient way to increase your home's curb appeal. If you don't own a pressure washer, you can rent one from your local home improvement store.
4. Look Up: Most homeowners don't give their roof a second thought, but a missing shingle or dingy streaked roof can be a real eye sore. Replacing a missing shingle or two, or even giving it a good cleaning will UP your home's curb appeal tremendously.
5. House Numbers: How many times have you driven by a home and wondered where are the house numbers? If the house numbers are hard to read or not visible, give them a makeover.  Replace them with new numbers at an extremely low cost. There is a large variety to choose from either online or at a home improvement store, from bright colored numbers like turquoise, orange or yellow to accent the flowers in your flower bed to more neutral tones like black, white, or shiny silver and gold.
6. Lighting: A new porch light fixture or solar landscape lighting is a great way to "light" up the place. There are many styles and shapes to choose from and the cost won't kill your pocket book.
7. New Door Mat: An inexpensive way to add a splash of color or brighten another's day with a cheery "WELCOME".
8. Spruce up the Lawn: It's never too late to green up the green. Now is the perfect time of year to put on the lawn fertilizer and revitalize that lawn. If you find that you have a few dead spots, a fast and inexpensive way to fix that is to buy some seeds. If you don't want to wait for them to take affect you can even buy that "special" lawn spray paint at the home improvement store. The paint will quickly cover the spot with green until the new grass grows in. No one will ever know you had a blemish there.
9. Let it Shine: Another quick and inexpensive way to spruce up your home is to make your windows sparkle and shine. Windows can often look dingy from rain and weather if left uncleaned. Giving them a good cleaning even just once a month will make your home's curb appeal sparkle.
Have fun sprucing up your home's curb appeal, summer is just around the corner!
Jenny Dodge is a licensed real estate agent in Lehi.