Tech panel at Envision breakfast candidly addresses Utah growth challenges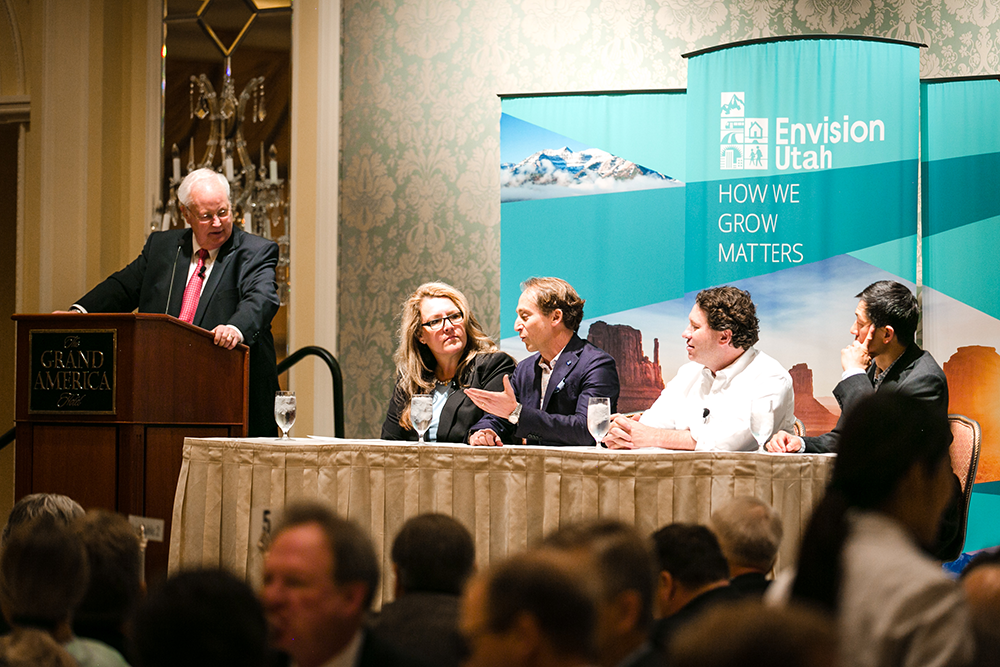 Envision Utah, a non-profit think tank, held their annual Spring Breakfast at Grand America on May 16. The highlight of the morning was the spirited panel discussion with four of the leaders in the high-tech industry; Carine Clark from Silicon Slopes, Karl Sun from Lucid Software, Josh Coates from Instructure, and Howard Hochhauser from Ancestry. The four experienced CEOs were candid about Utah's reputation and future in a discussion moderated by Robert J. Grow.
One of the first questions Grow asked the panel was, why is tech growing in Utah? Jeff Coates was quick to answer, "It's part of Utah's cultural DNA to 'do it our way.' Tech allows you to do it your way, to be creative. Outside of tech you have to start at the bottom and work your way up the ladder, but in the tech industry you can skip the ladder." Karl Sun was in agreement, "There is a spirit here in Utah of people not wanting to work for 'the man.'"
All the panelists are transplants to Utah, Carine Clark and Howard Hochhauser admitted that they didn't think they'd want to live here, but were won over. Grow asked what Utah has to offer that made them stay. "It's a great place to raise a family," said Clark. "There are four definitive seasons and great outdoor recreation. I do worry about diversity here, though." Hochhauser agreed with Clark, "I thought we'd only stay here a few years, but it's been more than ten and we love it," he said.
Clark's mention of the lack of diversity in Utah led Grow to ask the panel if Utah's reputation is getting better among top companies. Josh Coates commented, "Yes, there are a lot of white people in Utah! You find that in every state that isn't on the coast. Utah is also extraordinarily accommodating of diverse people." All the panelists agreed that it's getting much easier to recruit people. "There are so many great companies here in Utah now. People who come here to work know that if something doesn't work out, they have an opportunity to find other employment. Utah's reputation is becoming less quirky. The liquor laws here are unusual for the West, but they're not nearly as stringent as they are in the South. Utah also has an embarrassing reputation for being mecca for multi-level marketing businesses," said Josh Coates.
The subject of a gender pay gap was raised and the panelists agreed, first that there is a gender pay gap, and also the need to fix it. Ancestry and Instructure recently did studies within their company and Ancestry found they needed to raise the pay for some of their female employees. "Utah is ranked last in the nation for women – the most women living in poverty, the biggest pay gap between men and women doing the same job. Companies here say they can't find women. Women don't come here because they don't see opportunities for themselves. 'Girls can't be what they can't see.' It hurts us as a community not to support women. We need to do better," said Carine Clark.
When it came to talking solutions, the panelists all agreed that Utah is on the right track, but we need to do better. Moderator Robert J. Grow asked the audience if they knew what the number one reason was for young people leaving Utah for work. The answer was the poor air quality. Howard Hochhauser told of a potential employee who flew over the Salt Lake Valley and saw the pollution and told Hochhauser in his job interview that he would never live here because of the poor air quality.
There was a quick poll of the audience to find out who drives electric cars and about a dozen people raised their hands. Josh Coates demanded, a little jokingly, to know why he can't buy a Tesla in Utah, which caused some chuckling in the audience. (The Utah Supreme Court recently ruled against Tesla Motors in a lawsuit against the state over their ability to directly sell Tesla cars here. Utah state laws prohibit auto-makers from directly selling their vehicles here without a franchise.) Moderator Robert J. Grow remarked that Envision Utah's studies of air pollution have predicted that by 2050 most of the pollution in the Salt Lake Valley and Utah County will be caused by buildings, not vehicles. There is currently a National Green Building Standard that buildings are rated for their lot and site development, resource, energy, and water efficiency, and indoor environmental quality. The highest rating, Emerald, calls for a building to save 60% or more of its energy use.
During the discussion of how Utah can improve, Josh Coates asked, "What would happen if Utah just made the base pay for teachers $100,000? Who is in charge of that? I think something cool would happen. That would be earth-shattering all over the globe." Reaction from the audience, which included representatives from government and businesses all over Salt Lake and Utah County, was divided. Some applauded Coates's suggestion enthusiastically and others were conspicuously silent.
The discussion of solutions for the future continued with Carine Clark speaking highly of Karl Sun's intern program at Lucid Software. Clark went on to say, "We need to give interns hard jobs and pair them with seasoned professionals who can mentor them." Karl Sun and Josh Coates both praised Millennials as being willing to work hard and needing opportunities to show what they can do.
After the panel discussion ended, Rebecca Chavez-Houck of the Utah House of Representatives concluded the event. "It's great to have these candid and sometimes uncomfortable discussions," she said. "Now we need to act! It's all about who is bending our ear on the Hill."