IM Flash continues to change the landscape of North Utah County economy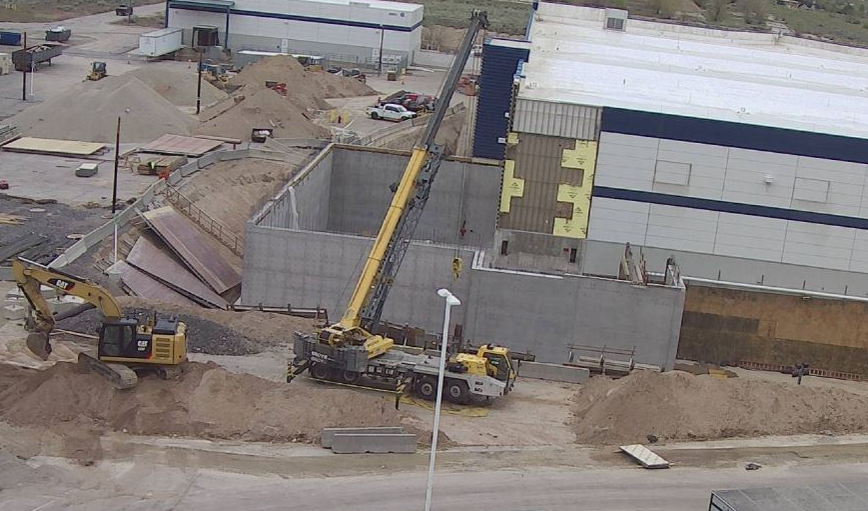 Nestled on the gentle sloping hillside above Timpanogos Highway is a quiet giant. IM Flash formerly Micron Technologies is a 300 + acre facility that produces memory devices that are used in all types of smart technology.
In Lehi City pre-council meeting on May 11, representatives from Micron, IM Flash and Intel presented details of a new project to the Mayor and City Council members. IM Flash is starting to expand their operations into an adjacent building on the IM Flash campus. The company is repurposing the existing building which has previously been used mainly as a test facility, to become a production facility.
The original building needed to be remodeled to add additional structural support. According to Brad Mortensen, Director of Facilities for IM Flash:
From design start to first tool move-in–10 months.
1500 yards of the estimated 5,000 yards of concrete has already been poured.
Just the electrical scope will require over 60,000 man hours to complete.
At the peak of construction there will be 500-600 craftsman working on the project.
At the peak of construction over 1,800 construction contractor headcount.
What is driving this massive project is the development of the 3DX Point memory device. This new technology addresses the need for high power, high density non-volatile memory. According to executives at IM Flash, "IM Flash is the only place in the world making 3DX Point. There hasn't been improvement in memory technology since 1989. Since its introduction in 2015, there have been 260 articles written about this new product. This is a $114 billion- dollar industry."
Excerpts from national media outlets report:
"The new chip could serve as a momentous achievement for the computing industry."—CNN Money
"This could really change a lot of the way we do computing."—PC Magazine
"It's the fastest thing we've ever tested. Period." –PC Perspective
"This is the best enterprise SSD I've tested (remotely or otherwise), and I've tested a great many."—Tom's Hardware
In the council meeting, officials passed around the device for the city council members to see. It was noted that 16 full length movies could be stored on the device. It looked to be about the size of a large postage stamp.
Since Micron/IM Flash's appearance in Lehi, high tech companies have exploded in North Utah County. "Silicon Slopes" has become the moniker for the area surrounding the Point-of-the Mountain and Lehi. The impact to the area's economy is significant.  IM Flash is the 7th largest employer in Utah County and the 2nd leading exporter in the state.
IM Flash is committed to contribute in significant ways to education. According to Brian Verwer, IM Flash Public Relations Director, "IM Flash has been a good community partner donating $1 million dollars annually to K-12, higher education and community/STEM events such as Robot Lego League, Math Immersion labs, and support for the local high schools. We look forward to maintaining our strong partnership with the City going forward."
Since Micron/ IM Flash located in Lehi in 2006, other major tech industries have built facilities in the boundaries of the city. Among these are:  Adobe, Xactware, Ancestry.com, Vivant Solar, SirsiDynix, Rain, and Headwaters is currently constructing a facility in the high- tech corridor. The impact of IM Flash cannot be overstated and will continue to enrich the community for many years to come.