Lehi Planning Commission approves 303 acre Cold Springs Ranch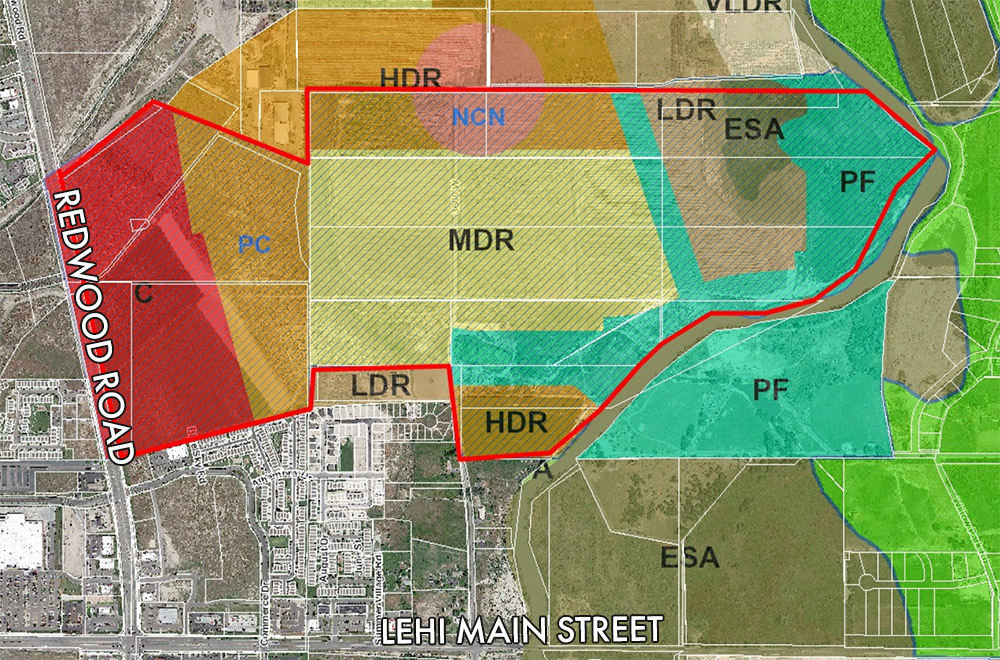 The Lehi Planning Commission met July 13, 2017, in city council chambers, to discuss sixteen agenda items. In the nearly four- hour meeting, the commissioners unanimously approved all but one item.
The longest discussion, nearly one hour, was the DR Horton request for the Cold Springs Ranch Area Plan. The planned community development is located at 3600 West 500 North. (see graphic). The development will include 1,150 residential units, commercial areas, and about 22 % open space. There will be a central club house, pool, splash pad, ball fields, and a pedestrian bridge over the Jordan River. There will also be picnic areas and barbecue pits in various locations in the development.
The representative for DR Horton expressed appreciation for the planning staff for their cooperation in helping the development come to fruition. Citizens, engineers, city staff, all were involved in the planning stage.
Commissioner Hutchings questioned some of the commercial development within the Cold Springs Development. "Why do they need a recycling facility, go cart tracks, and other unusual types of commercial properties?"
Several citizens from Saratoga Springs came to express concern about a buffering area between their residential development and the commercial area planned right next to their homes. Ethan Aylett expressed a desire for an evergreen barrier. Derek Andrews, a Saratoga Springs resident, expressed concern for wildlife. "Has an environmental study been done?" He queried.
After lengthy discussion, the four commissioners unanimously sent a positive recommendation to the City Council.
Other items that received discussion was the Dave Robinson's request for conditional use approval for the Five Inc. site plan. The 10- acre commercial development is located at approximately 1100 West Pioneer Crossing in a commercial zone. The developer is wanting to build a light manufacturing facility.
This is the second time the project has been presented to the Planning Commission. It was tabled by the commission in February. There were concerns from residents about traffic congestion in a neighborhood filled with small children. It was suggested by Jonathan Wood, resident of the area, that a 4-way stop be placed at 975 W. 1100 W. Kerry Gonzales spoke to the commissioners about the ability of emergency vehicles to access homes.
Commissioner Ash, a traffic engineer, asked about having the city re-evaluate the land use. A motion was made but with only four commissioners present, all four had to vote in favor of the conditional use. With Ash, voting "nay" the motion failed. It was tabled for further discussion.
The following items were unanimously approved:
Alpine School-Powell Annexation, 15.69 acres of property located at 1200 South Center Street request of R-1-22 zoning.
Laurie Allred's request for RA-1 (residential/agriculture) zoning on the Allred Annexation, a .77- acre property located at 950 East Mesa Avenue.
Gary Coopers request for R-1-15 (residential) zoning on the Laney Annexation, approximately 7.2 acres of property located at approximately 900 N. 1580 E.
Boyer Company's request for an amendment to the Holbrook Farms Area Plan located at approximately 2100 North 3600 West, amending the residential overlay areas.
Consideration of PEG Developments request for approval of the Mill Place Park site plan, a 5.84 -acre commercial development located at 401 South 850 East in an existing commercial zone.
Public Hearing and recommendation of Cole Peck's request for the Peck preliminary subdivision, a 3-lot residential development located at 350 South Center Street in an R-2 (medium density residential) zone.
Public hearing and consideration of Jered Plouzek's request for conditional use approval for the Action Auto site plan, an auto repair and outdoor storage use in an existing building at 190 West State Street in a Mixed- Use zone.
Consideration of Menlove Construction's request for approval of the Thanksgiving Point Extra Space Storage Phase 2 site plan located at 4825 North Thanksgiving Way in an existing Light Industrial zone.
Rick Salisbury's request for approval of the Strap Tank concept plan, a proposed brewpub located at 3525 North Outlet Parkway in an existing Planned Community zone.
Public hearing and consideration of IM Flash's request for conditional use approval to allow an exception to the architectural standards for the Building 55 site plan, a new one- story building located at 4000 North Flash Drive in a T-M (technical-manufacturing) zone.
Public hearing and recommendation request for a zone change and approval of the Hamilton Motors concept, a 1.01- acre commercial project located at 614 West Main Street in a Commercial zone.