Lehi Arts presents Seussical the Musical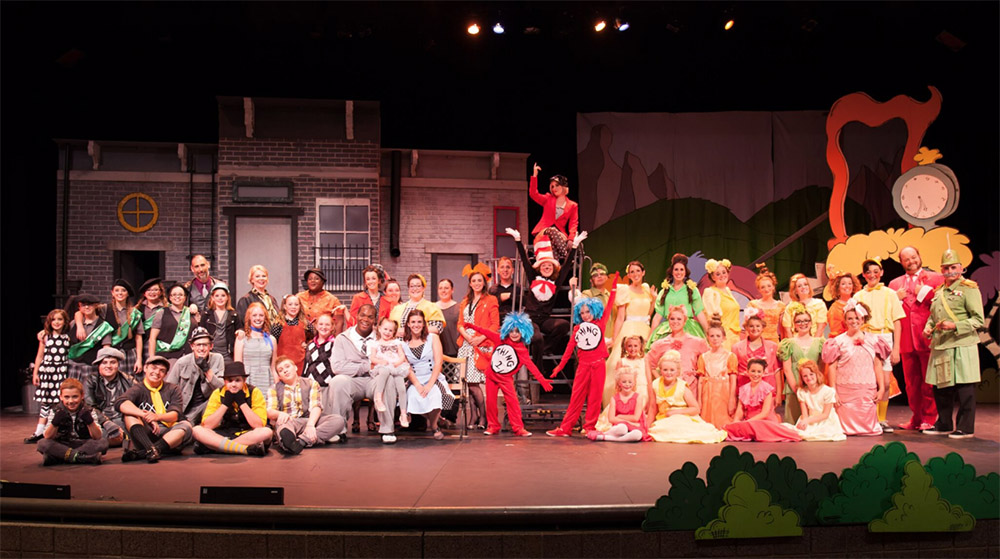 Lehi Arts Council's production of Seussical the Musical starts with a tall, red and white striped hat sitting alone on the stage. Every member of the audience, no matter how small, knows the hat belongs on The Cat in the Hat and when she's around there will be rhyming and lots of trouble.
Seussical the Musical is a mash-up of some of Dr. Seuss's most famous stories. The Cat in the Hat narrates the tale of Horton the Elephant discovering a village of Whos on a speck of dust. The Jungle of Nool, where Horton lives, is an inner-city neighborhood in the Lehi City production. Becca Rose, who most recently playing Deloris in LAC's Sister Act, is the Sour Kangaroo leading the neighborhood in ridiculing Horton (played by Alec Powell). The city neighborhood takes up half the stage, with characters dressed in mostly black and white with a few pops of bright yellow and red. While Horton is trying to protect the speck, Mayzie La Bird (played by Brooke Halladay) leaves her egg with him and flits off without a care.
The other half of the Willowcreek Middle School stage is Whoville, filled with familiar Dr. Seuss-style trees and houses. The Whoville characters are in cotton-candy colors with gravity-defying hairdos. Mayor and Mrs. Who send their son, JoJo (played by Thomas Wood), off to military school for "thinking too many thinks." The musical bounces between JoJo's story and Horton's journey from the Jungle of Nool to the Circus McGurkus.
Everything about LAC's Seussical the Musical is top-notch. Each of the actors is an exceptional singer and their harmonies are pretty perfect. Brooke Halladay's Mayzie La Bird was delightfully wicked and her back up "Bird Girls" played by Diane Graham, Kate Daly and Abby Sue Garner, stole the scenes they were in. The sets and props were clever and often unexpected. During "Oh the Places You'll Go" JoJo tap dances with only a black light on him and white-gloved back-up dancers around him. The Cat in the Hat, played by Harper McGee, was an audience favorite, until she started charging $5 for selfies.
Lehi Arts Council's Seussical the Musical is a first class production that shouldn't be missed. The first show was on Thursday, with performances continuing Friday and Saturday evening, August 10 – 12, at Willowcreek Middle School. It starts at 7:30 PM and tickets are at the door.