Cynthia Ann Morton Johnson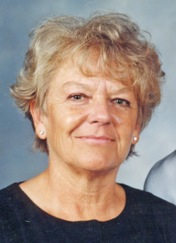 Cynthia Ann Morton Johnson, age 78, loving wife, mother, grandmother, great grandmother, sister, and friend, passed away August 16, 2017. She was at home, surrounded by her husband and children.
She was born on October 18, 1938 to Gertrude (Fox) and Lawrence James Morton, the fourth of six children. The family lived in Magna until Cynthia was about seven years old, when they moved to Lehi. Lehi remained her home until the time of her death.
In 2011, she suffered a massive stroke following surgery, which left her paralyzed and dependent on those around her. She was cared for by many who loved her, but especially by her husband, Jerry.
Cynthia was loved dearly and enjoyed much by her husband, children, siblings, workmates, and neighbors. She made friends easily and kept them long. She will be missed immensely.
Cynthia is survived by her husband Jerry (Gerald) Johnson, their four children; Terry (Mark) Stewart, Kay (Melanie) Johnson, Shawn (Vicky) Johnson, and Kevin (Melinda) Johnson, siblings; Joyce Turner, Roger Morton and Vesta Olson.
Funeral services will be held Saturday, August 26, 2017 at 11:00 a.m.in the LDS Chapel located at 150 East 1500 North, Lehi, Utah. Family and friends may call Friday evening from 6-8:00 p.m. at Wing Mortuary, 118 East Main, Lehi, and one hour prior to the service at the church. Interment, Lehi City Cemetery. Online guest book at wingmortuary.com.